*FYI - this post may contain affiliate links, which means we earn a commission at no extra cost to you if you purchase from them. Also, as an Amazon Associate I earn from qualifying purchases. Check out our Privacy Policy and Disclosure. for more info.
Basel's Christmas Market is known as one of the largest and most beautiful Christmas markets in Switzerland.
Throughout the festive season, you'll find over 180 chalets from local artisans and traders in the city's historic Old Town, alongside smaller markets and a diverse program of festive events and activities like a literary-musical Advent Calendar.
We first visited this Christmas market in 2018 and loved the fairytale atmosphere and wide variety of high quality products, a lovely departure from other big names like the Nuremberg Christmas Market, where mass produced items are becoming more popular.
Looking to learn more about Basel Christmas market, or perhaps need some guidance on planning your own trip there?
In this post, we'll be covering…
Practical Info for Basel Christmas Market
A Brief History of Basel Christmas Market
Why Visit Basel Christmas Market?
Christmas Markets in Basel to Visit
We hope you find it helpful and interesting!
Christmas Market Packing Essentials:
Practical Info for Basel's Christmas Markets
Here are some quick must-knows for Basel Christmas Market this year:
Dates: Nov 23 – Dec 23, 2023
Official website: Click here
In need of a place to stay? Here are some quick hotel recommendations:
A Brief History of Basel Christmas Market
Basel's Christmas Market has enchanted millions of visitors since its first edition just over 40 years ago, although it has grown substantially in size through the years!
In fact, the first edition of Basel Christmas Market took place with only 35 stalls, about 1/5 of what the numbers are today.
The 1st ever Basel Christmas Market took place on Claraplatz, and was privately organized before the city took over organization efforts one year later.
And while locations have shifted over the years between Claraplatz, Barfüsserplatz, Theaterplatz and Münsterplatz, some things have remained the same… with vendors like Yves Born, who has sold silk scarves and accessories at the market every year since 1978!
Today, Basel's Christmas Market draws over 900,000 visitors each year, cementing a reputation as one of the country's top Christmas markets along the way.
Why Visit Basel Christmas Market?
Wondering whether Basel Christmas Market is worth a trip? Here are some reasons to visit:
Basel is Beautiful!
Basel is a unique city because it's the only one of in the world that sits at the meeting point of three countries (Switzerland, France, and Germany).
Besides that though, it's a stunning city with an amazing cultural scene, meaning there is loads to do here besides visiting Christmas markets.
A rich assortment of activities and events
While visiting Basel Christmas Market is of course a highlight of the festive season in Basel, there are also a lot of other noteworthy events and activities that make a Christmas visit to Basel special.
There is, for instance, the Adväntsgass in Glaibasel, which swaps the traditional wooden Christmas market chalets for cute stalls and food trucks.
There's also a 'fairytale forest' providing plenty of exciting progamming for children, a festive Christmas tram, a Christmas-themed ferry and of course, the literary-musical Advent calendar at Theater Basel, where guests can come experience performance art for free every day in the theatre's foyer from Dec 1-23.
Walkability & Ease
Basel's Christmas Market scene is relatively condensed compared to other cities in Switzerland.
With only two main locations, most Basel Christmas Market stalls are an easy walk within each other, meaning you don't need too much time to cover everything.
In fact, we visited Basel as a day trip from Zurich's Christmas Markets and felt we had plenty of time to enjoy the festive ambiance.
Basel Christmas Market Locations
Wondering where to find Christmas market stalls in Basel? Here are the main locations of Basel Christmas Market:
Münsterplatz
As home to one of the city's most distinctive landmarks, Münsterplatz is a wonderful Basel Christmas Market location you definitely need to see.
With a large towering tree directly in front of the iconic red sandstone Münster, this Christmas market has a truly magical ambiance thanks to its beautiful lighting displays and dozens of cozy stalls with a wide selection of both handicrafts and delicacies to try.
Here, you'll find them selling everything from silk scarves and Russian handicrafts to deep fried apple donuts and of course, the Swiss specialty raclette.
The Fairytale Forest in Münsterplatz
Another wonderful feature of Münsterplatz is the children's fairytale forest, where you'll find plenty of kid-friendly activities from candle making and decorating, to cookie baking and metal forging.
Barfüsserplatz
Another must-visit Basel Christmas Market location is Barfüsserplatz, a busy transport hub where you'll find a lot more crowds, but also a larger variety of stalls and unique food opportunities…. including Chäsbängel, a fondue-filled baguette!
Here, you can grab Glühwein at the market's central Christmas pyramid, or take advantage of the many stalls offering unique gift ideas.
The long list of vendors here includes everything from classics like wooden toys and candles to global handicrafts from diverse corners of the world.
While this market was really, really busy during our visit, we'd still recommend it, although maybe you should try to time your visit for off-peak periods to ensure some space to breathe.
The Basel City Market
One of the tourist highlights of Basel is its jaw-dropping 500 year old Rathaus (City Hall), a beautiful building made of red sandstone with a festive vibe year round.
And while a market already takes place here throughout the year with local producers selling foodie gifts, produce, and baked goods, it becomes especially magical at Christmas, when the square is decorated with its own Christmas tree and stalls take on a festive flair for the season.
PS: Be sure to visit the Rathaus courtyard to see the Basler Wunschbuch (Basel Wish Book), which is a giant book where anyone can write their wishes for the coming year. This tradition has been going on for over 25 years, and completed books are actually stored in the State Archives!
Adväntsgass in Glaibasel
Besides the main Basel Christmas market locations listed above, another noteworthy Christmas market in Basel is the Adväntsgass in Glaibasel.
This one takes place on Rheingasse in Klenbasel, and is definitely a lot cozier than its larger counterparts, with small stalls and foodtrucks arranged along the street, which is beautifully illuminated with twinkling lights.
More Photos of Basel's Christmas Markets
Looking for some more Basel Christmas Market eye candy? Here are some additional photos we captured during our visit: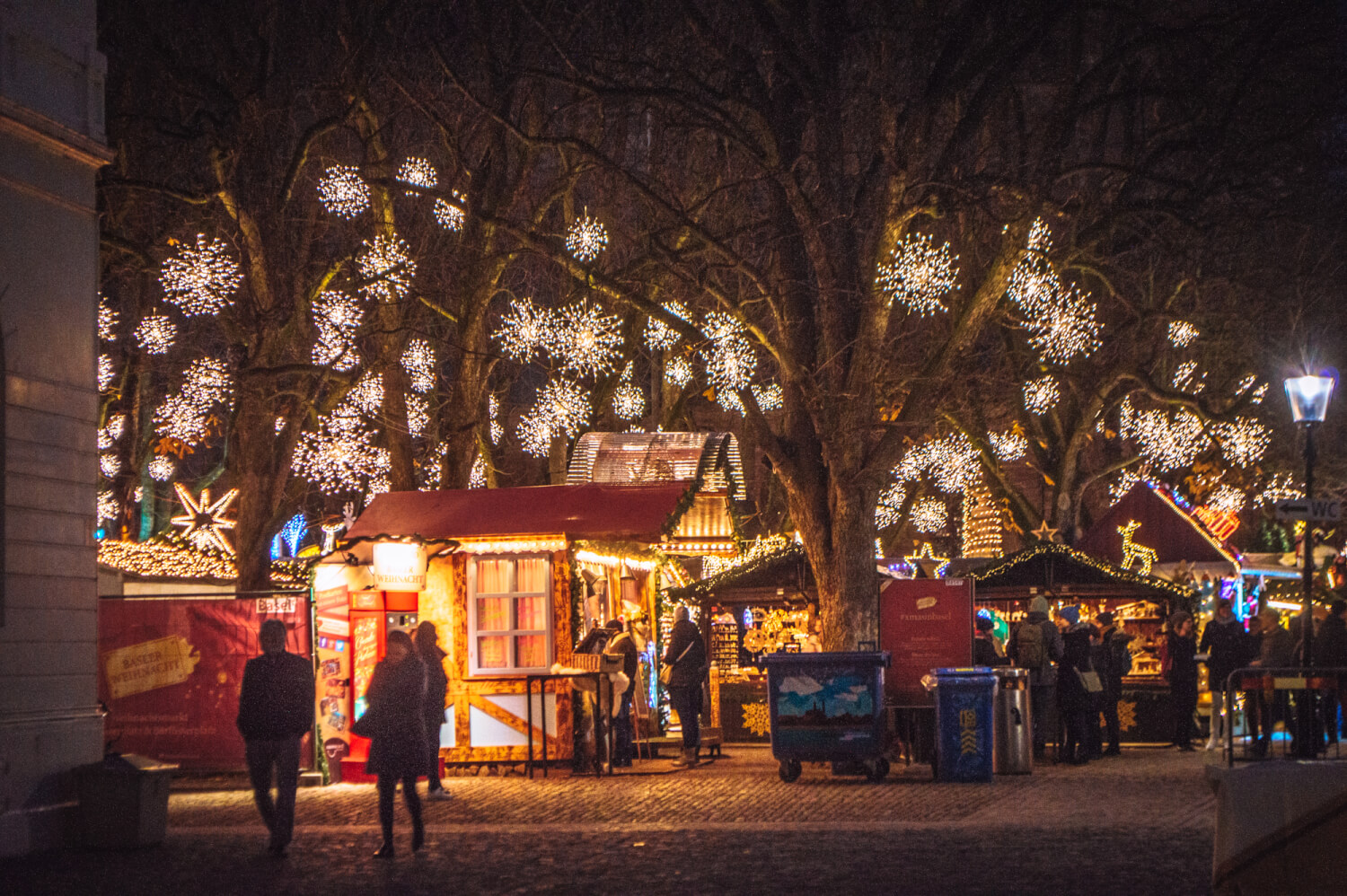 We hope you enjoyed this Basel Christmas Market Guide!
Let us know in the comments if you have any more questions about your trip – we're always happy to help.