*FYI - this post may contain affiliate links, which means we earn a commission at no extra cost to you if you purchase from them. Also, as an Amazon Associate I earn from qualifying purchases. Check out our Privacy Policy and Disclosure. for more info.
Valkenburg's Christmas Market scene is known for its unique array of Christmas markets (some of which are held in caves!), and its fun annual Christmas parade.
It's also widely considered to be one of the best Christmas markets in the Netherlands.
Fun fact – Valkenburg is often referred to as 'the Dutch city of Christmas' since the whole city becomes a magical winter wonderland between November and January!
We first visited this Christmas market in 2018 and loved the novelty of shopping for Christmas gifts inside caves, as well as exploring all the other Christmas-themed events that are held in Valkenburg during the festive season.
Looking to learn more about Valkenburg Christmas Markets, or perhaps need some guidance on planning your own trip there?
In this post, we'll be covering…
Practical Info for the Valkenburg Christmas Markets
A Brief History of Valkenburg's Christmas Markets
Why Visit Valkenburg Christmas Markets?
Christmas Markets in Valkenburg to Visit
More Photos of Valkenburg Christmas Markets
We hope you find it helpful and interesting!
Christmas Market Packing Essentials:
Practical Info for Valkenburg Christmas Markets
Here are some quick must-knows for Valkenburg Christmas Markets this year:
Dates: Nov 17 – Dec 30, 2023
Official website: Click here
In need of a place to stay? Here are some quick hotel recommendations:
A Brief History of Valkenburg Christmas Markets
Valkenburg's Christmas Markets and events have been enchanting visitors for 24 years, although the town and caves are much older than that.
The main (and most popular) Christmas markets in Valkenburg are held in two marl-quarries, or caves, although there's also a 'Santa's Village' in the town square which features chalets selling gifts and food.
It does cost money to visit each of the caves (between €8 and €12.50) although the Santa's Village is free to wander around.
We definitely recommend pre-booking your tickets online to avoid extra queues.
Why Visit Valkenburg Christmas Markets?
Wondering whether Valkenburg Christmas Market is worth a trip? Here are some reasons to visit:
Valkenburg itself is fascinating!
Located in the very south of the Netherlands in the province of Limburg, this is one of the few areas of the country to feature actual real mountains!
While only the ruins of Castle Valkenburg remain they are still worth a visit, and the castle is also the only castle in the country built on a hill.
The caves can be visited throughout the year, featuring interesting charcoal drawings and recreations of places in the Netherlands, along with a coal-mine museum.
They're even older than the castle, having been dug around 1050 and have had many different uses – from storing goods, to moving armies for surprise attacks and even sheltering people fleeing religious persecution.
During WWII locals hid from the German armies in these caves and when the town was liberated by the Americans the soldiers were also invited to write their names on the walls.
Kerststad Valkenburg is more than just a market
As well as the three main markets (which we'll outline below), Valkenburg hosts even more Christmas-themed events and attractions.
The Megelrijk cave is home to miniature displays year-round, which get some festive decorative additions during the Christmas period.
In another marl-quarry (the Wilhelmina Cave) a yearly display is created, with artists from around the world making sculptures around a particular theme.
Past themes have included sand sculptures of A Christmas Carol and the 1001 Nights.
This year a huge nativity display will take guests on a journey from Nazareth to Bethlehem.
Afterwards, you can take a ride on the cable-lift to see the 'largest illuminated Christmas tree in Limburg', which is actually the Wilhelminatoren!
This year will also be the first time the Christmas LightArts Valkenburg will take place, with gorgeous light displays illuminating the city after dark.
A night-time Christmas parade is additionally held twice a week (on Wednesdays and Saturdays) until the 29th December.
Adult visitors might like to enjoy the culinary walking route, while the Sprookjesbos theme park is additionally decorated with Christmas spirit for the children to enjoy.
The location is also ideal for visiting other places
Valkenburg is located in the far southern part of the Netherlands, which means it's close to the borders of both Belgium and Germany, as well as right near the beautiful Dutch city of Maastricht.
If you have time, visiting the Christmas market in Maastricht (and a famous bookstore in an old cathedral) would be a perfect little weekend getaway to combine with Kerststad Valkenburg.
You could also pop over into Trier, Germany for a truly epic Christmas trip!
Christmas Markets & Locations in Valkenburg You Must Visit
Wondering where to find Christmas market stalls in Valkenburg? Here are the main locations of Valkenburg's Christmas Markets and the other festive events:
Gemeentegrot
The Gemeentegrot (Municipal Cave) is usually touted as being the oldest, largest and most-visited underground cave in Europe.
Stalls and displays fill the halls of this large space, so you can pick up plenty of gifts or just wander around to enjoy the ambience.
The caves are not too cold and even feature luxuries like public toilets!
There are also small cafés set up if you need a break for some food and drink.
You can find all manner of lovely crafts and clothes to purchase, from miniature wooden houses, to garden sculptures and handmade jewelry.
Fluweelengrot
The Fluweelengrot (Velvet Cave) is slightly smaller than the Gemeentegrot, but also has more coal drawings and sculptures inside – including a giant dinosaur poking his head out of a wall!
There's also a café right by the dinosaur and many stalls selling gifts.
Since it's smaller this market is usually slightly less busy as well, which means it's easier to actually get to the stalls if you want to buy things…
While all of the caves are wheelchair/pram accessible, the ground is kind of uneven, which we found led to sore feet and backs pretty quickly. Make sure you wear comfortable shoes!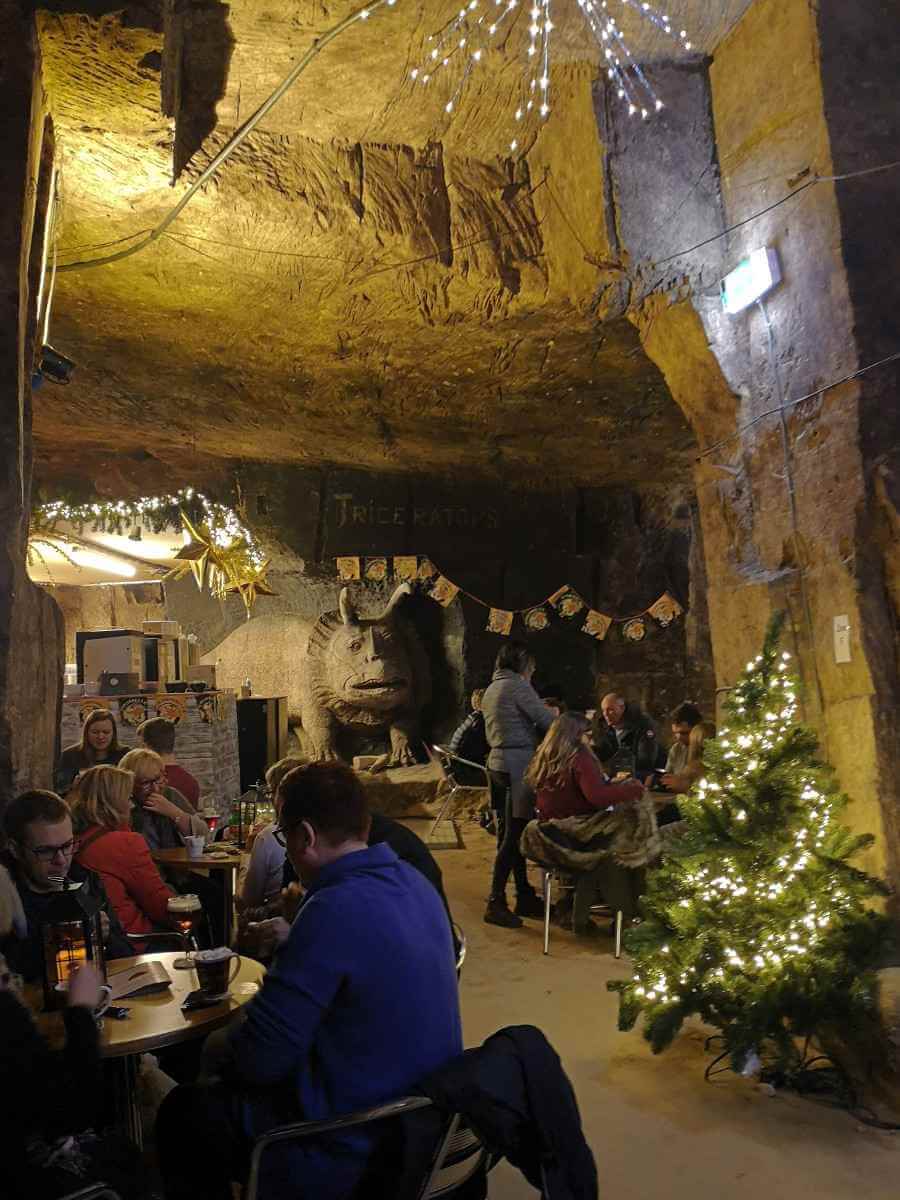 Santa's Village
Above ground in the main city square is the more traditional Santa's Village, which features little wooden chalets selling gifts, food and drinks.
Children can also get their photo taken with Santa and there was a charming old-fashioned carousel for rides as well.
This market features more clothing and leather goods type products.
If you feel in need of some fresh air this spot is very nice, especially as it's right next to one of the prettiest little canals in Valkenburg and surrounded by beautiful old architecture.
Wilhelminagrot
The Wilhelmina quarry has, in the past, housed sand sculptures themed around different stories and this year will host the "Winter Wonderland" with a nativity scene.
The cave/quarry entrance is directly underneath the cable car which also takes you up to the Wilhelminatoren (tower), so it's a wonderful way to see over the town, especially at night.
The tower is also covered with lights to make it appear to be a huge Christmas tree at night, and there are quite a few fun activities you can take part in at the AGOGO located on the hill – from mini golf to tobogganing.
MergelRijk
The MergelRijk cave is a museum that's open year-round, where you can discover all about the history of Valkenburg's marl-quarries and see some pretty amazing sculptures; including a life-size one of The Night Watch by Rembrandt.
During Kerststad Valkenburg the cave is additionally decorated with adorable Christmas miniatures and other festive elements.
More Photos of Valkenburg Christmas Markets
Looking for some more Valkenburg Christmas Market eye candy? Here are some additional photos we captured during our visit:
We hope you enjoyed this Valkenburg Christmas Market Guide!
Let us know in the comments if you have any more questions about your trip – we're always happy to help.