*FYI - this post may contain affiliate links, which means we earn a commission at no extra cost to you if you purchase from them. Also, as an Amazon Associate I earn from qualifying purchases. Check out our Privacy Policy and Disclosure. for more info.
Salzburg is a city known the world over for Mozart and the Sound of Music, but one of its most impressive draws hits the city each winter, when a series of enchanting Salzburg Christmas Markets take over the city.
Much like in Vienna, Graz, and Munich just across the border, mid-November to Christmas is a very special time to visit Salzburg. From the iconic Christkindlmarkt at the Salzburg Cathedral to smaller, cozier markets scattered around town, it's easy to see why Salzburg is considered one of the best Christmas market destinations in Austria.
So whether you're currently planning your own trip, or simply curious about what Salzburg Christmas Market is like, then we're here to help.
Read on for an overview of Salzburg Christmas Market, with official dates, hotel recommendations, and locations.
NOTE: This is a Christmas market we haven't personally visited yet, so all the information below is taken from official sources for your reference! If you have any personal tips from first-hand experience to add, let us know in the comments so we can improve this guide!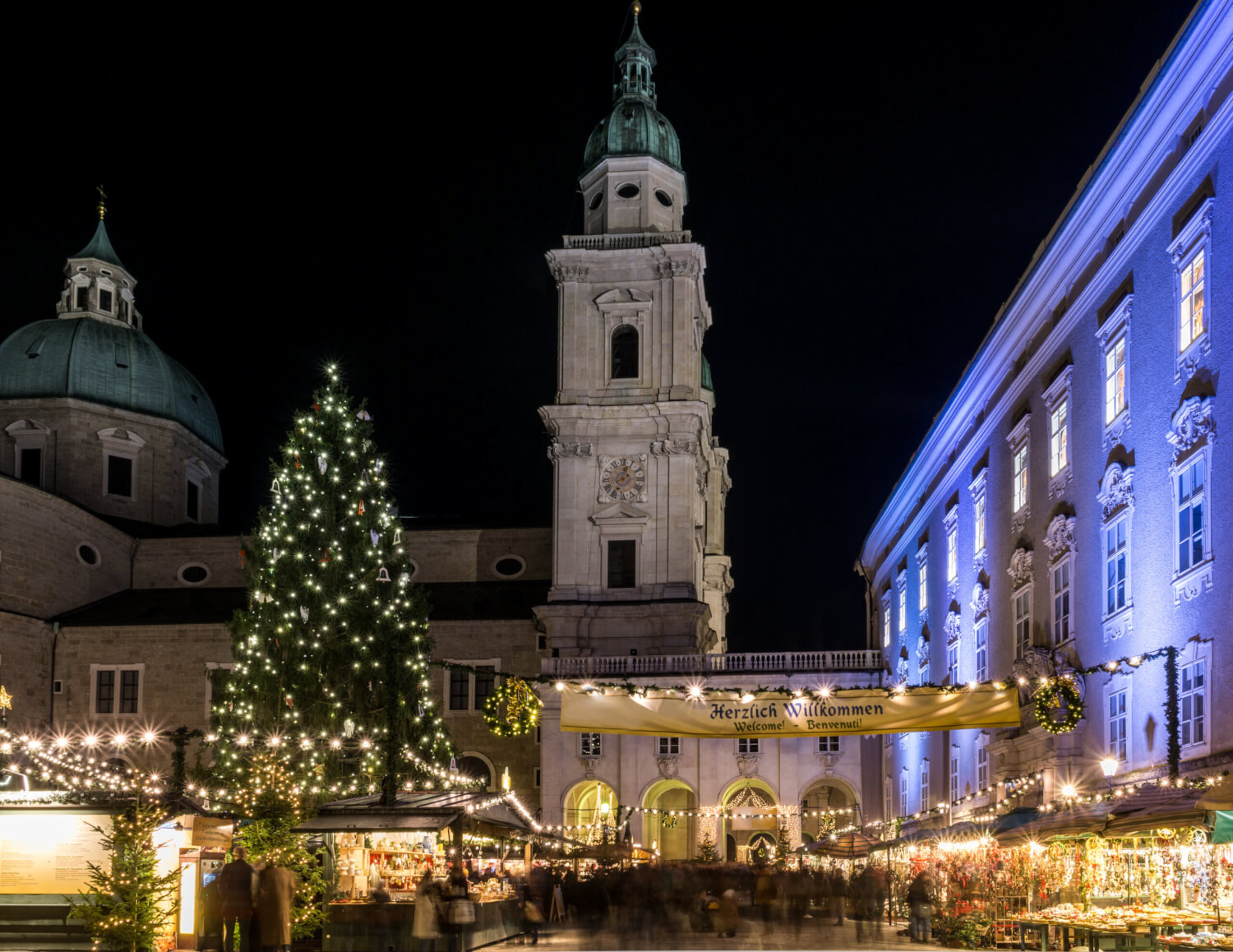 Christmas Market Packing Essentials:
Salzburg Christmas Market Dates
These are the dates that have been confirmed so far:
Salzburger Christkindlmarkt Am Dom- Und Residenzplatz: November 21, 2023 – January 1, 2024
Sternadvent: November 23 – January 6, 2024
Christmas Market on Mirabellplatz: November 23 – December 24, 2023
Advent at Salzburg Fortress: December 1 – 18, 2023
Hellbrunner Adventzauber: November 23 – December 24, 2023
Salzburg Christmas Market 2023 Hotels
Looking for a place to stay nearby while you visit Christmas markets? Here are some recommendations:
Salzburg Christmas Market Locations
As we mentioned before, Salzburg has several Christmas markets that run throughout the festive season. Here are the top ones that you cannot miss.
Salzburger Christkindlmarkt Am Dom- Und Residenzplatz
In the shadow of Salzburg's epic cathedral, the Salzburger Dom, you'll find the most famous and historic of Salzburg's Christmas markets: the Salzburger Christkindlmarkt.
Spread across both Domplatz and Residenzplatz, this beautiful Christmas market is one of the oldest in the world, with a variety of beautiful gifts, decorations, and Christmas market food for all visitors to enjoy.
Of course, add on the atmospheric touch of big beautiful light garlands suspended over each square, and you have a can't miss Salzburg Christmas market to add to your list.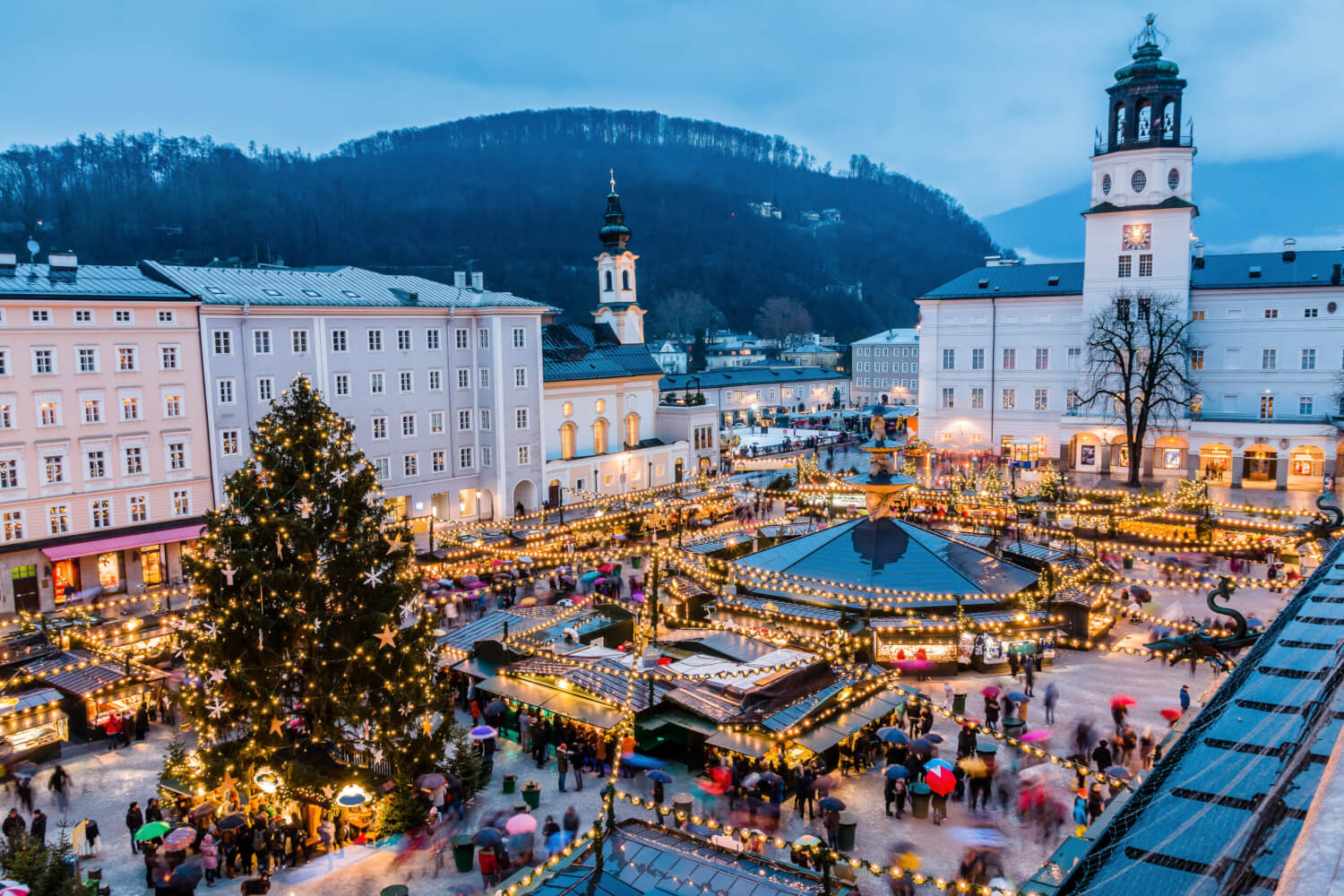 Stern Advent and Winter Market
Tucked between Getreidegasse and Griesgasse, you'll find another beautiful Salzburg Christmas Market to visit.
Here, you'll find a a selection of handmade arts and crafts, as well as a living Nativity scene.
Advent at Salzburg Fortress
Looking for the highest Christmas market in Salzburg? Then be sure to put Advent at Salzburg Fortress on your list!
This special Christmas market takes place in the courtyard of the city's top tourist attraction: the Fortress Hohensalzburg, which sits over 500m above town.
From tasty local treats and an amazing view to a variety of gifts to take home, this Salzburg Christmas market is sure to impress.
Christmas Market on Mirabellplatz
Another iconic Christmas market location in Salzburg is Mirabellplatz, where you'll find a selection of lovely huts selling mulled wine, treats and unique products.
Conveniently located near the city's main train station, this is a Salzburg Christmas market perfect for those visiting by train and public transportation.
Hellbrunner Adventzauber
On the outskirts of Salzburg, another magical Christmas market in front of the Hellbrunn Palace awaits.
Here, you'll find a fairytale forest of sorts with hundreds of richly decorated trees, alongside a giant Advent calendar created with the windows of the palace itself!
St. Leonhard Advent Market
Located by the pilgrimage church of St. Leonhard, the St Leonhard Advent Market is a special Christmas market near Salzburg thats's perfect for those keen to enjoy a quieter Christmas market that's a bit more off the beaten path.
Offering a variety of unique handicrafts from across Austria and regions nearby, this authentic Christmas market is the perfect place to browse for gifts, whether you're looking for Christmas decorations and ceramics, or handmade children's toys.
Ongoing since the 70s, this Christmas market is also known for its unique musical performances at the church, which welcomes music groups from across Austria, Bavaria, and beyond.
Christmas Wonder World in St Peter's Stiftskulinarium
Lastly, while it's not a Christmas market proper, it's worth noting that the St Peter's Stiftskulinarium (located at St Peter's Abbey) has a 'Christmas Wonder World' every year which involves transforming their restaurant into a gorgeously festive wonderland filled with trees, decorations and delicious culinary delights.
If you're looking for a festive place to enjoy a nice meal in Salzburg, this is one spot to add to the list!
Help Us Improve This Salzburg Christmas Market Guide!
We're constantly striving to make articles on this site more informative for our readers, so let us know in the comments if you've been to Salzburg Christmas Market and if there are any tips or must-knows you'd like to share.