*FYI - this post may contain affiliate links, which means we earn a commission at no extra cost to you if you purchase from them. Also, as an Amazon Associate I earn from qualifying purchases. Check out our Privacy Policy and Disclosure. for more info.
Looking for a roundup of the tastiest Christmas market foods in Europe?
It's your lucky day! In this post, we'll be listing out our favorite Christmas market eats, from Applesauce on potato pancakes to Zesty gingerbread.
While Christmas market cuisine of course varies from country to country and region to region, there are some classics that you'll find at pretty much every (German-style) Christmas market.
This list goes over the top ones you must try, along with the names you'll usually find them by in Christmas markets across Europe. We hope you enjoy this virtual feast!
Christmas Market Packing Essentials:
First: Mulled Wine
Mulled wine is commonly sold as…
Glühwein (in German)
Vin chaud (in French)
Svařák (in Czech)
We'll start first with a non-food item, but one that's so important we couldn't skip it.
As the Christmas market's most iconic drink, Mulled Wine is a must-have for any festive occasion.
This hot wine is mulled with warming spices like cloves and cinnamon for the ultimate Christmas comfort drink.
While the most typical iteration uses red wine as its base, these days you'll find mulled white wine, mulled rosé and even mulled beer, with tons of flavour combinations to keep you on your toes.
Potato Pancakes
These treats are commonly sold as…
Reibekuchen
Kartoffelpuffer
Made up of shredded potato that's mixed with egg and flour, then deep fried, these hashbrown-like creations are an addictive Christmas market snack you need to try ASAP.
And while they're delicious on their own, commonly you'll find them with a slew of accompaniments like apple sauce or garlic sauce.
Flammkuchen
These treats are commonly sold as…
Tarte Flambée (in French)
Originating from the Alsace region of France, Flammkuchen is a thin flatbread smothered in tasty toppings, from the classic crème fraiche, onions, and bacon to bolder options like figs, walnuts, and even chickpeas.
While often compared to a pizza, Flammkuchen has a distinct taste and personality of its own, with a much lighter and crispier base and less heavy toppings.
Sausages (in a Bun)
At pretty much every Christmas market in Europe, you'll find a twirling Schwenkgrill, heaped with sausages of all kinds.
From tiny Nuremburger sausages (usually served 3 in a bun) to thick Thuringian rostbratwurst smothered in mustard, there are plenty of tasty options… so make sure to try at least one while eating your way through all the best Christmas market foods!
Currywurst
Another sausagey Christmas market food you can't miss is Currywurst – tasty pork sausage smothered in a curry ketchup, usually topped with curry powder for extra spice.
While it's a food commonly associated with Berlin, you'll usually find it at Christmas markets all over Europe.
Roasted Almonds
These treats are commonly sold as…
Gebrannte Mandeln (in German)
Chouchous (in French)
These addictive roasted almonds can be found in virtually every Christmas market, and you'll be able to smell them from a mile away.
Doused liberally in sugar and then roasted to perfection, these candied almond treats are a must for any Christmas market food bucket list.
Lángos
Originating from Hungary, Lángos is a delicious Christmas market food you definitely need to try.
It consists of a fried dough that's topped with a range of savoury or sweet toppings, from cheese and sour cream to bacon, tomatoes, or even cinnamon and Nutella. A definite must-try!
Raclette
While most popular at Switzerland's Christmas Markets, Raclette is quickly becoming a Christmas market foodie favourite at markets across Europe.
This dish consists of heated cheese that is scraped off the wheel, usually on top of bread, potatoes, onions, cold cuts and pickles.
Fried Mushrooms
These treats are commonly sold as…
Champignons (in French, but also they're sold this way at German-language markets too)
For a slightly less gluttonous Christmas market food that's still absolutely delicious, be sure to try Fried Mushrooms, commonly served with a huge dollop of garlic sauce.
Pommes
Fries are no groundbreaking food, but they're a tasty and reliable Christmas market treat that you should indulge in at least once… especially if you've never tried the tried and tested combination of fries with mayonnaise!
Käsespätzle
The easiest way to explain the wonders of Käsespätzle is that it's like a German version of Mac and Cheese, made with bite-sized egg noodles covered in Emmentaler cheese and fried onions as a topping.
This is one of the top vegetarian-friendly Christmas market foods out there, and definitely one to put on your foodie bucket list.
Chimney Cake
This treat is commonly sold as…
Kürtőskalács (in Hungarian)
Baumstriezel (in German)
Trdelník (in Czech)
While these days, chimney cakes are commonly associated with Czechia, its origins can actually be traced back to the Hungarian-speaking regions of Romania.
Of course, you'll be able to find them these days at Christmas markets all over Europe.
These crispy cakes are made from a yeasty dough that is wrapped around a conical spit, then rolled in sugar and slowly roasted to perfection.
Whether enjoyed plain (usually dusted with cinnamon and sugar) or with additional toppings like nuts or coconut flakes, these simple cakes are a nice not-too-sweet option for Christmas market indulgence.
Schaumkuss
Another addictive Christmas market treat is the Schaumkuss (AKA Schokokuss), a chocolate covered marshmallow with a light biscuit base.
These can be found in Christmas markets all over Europe, and in all sorts of delicious flavours.
Flame Grilled Salmon
This treat is commonly sold as…
Flammlachs (in German)
Loimukala or Loimulohi (in Finnish)
For a filling and nutritious Christmas market food, look no further than Finnish Flame Grilled Salmon.
This tasty Nordic specialty consists of a seasoned salmon filet that's affixed to a wooden plank, then set next to a fire to cook slowly over the course of 45 min to an hour.
The result is a flavourful and juicy fish, with a distinctly smoky flavor. So good!
Schupfnudeln
A popular Christmas market food especially in Southern Germany and Austria, Schupfnudeln are bouncy potato-based noodles are shaped like fingers, and typically fried with bacon and sauerkraut.
Of course, this is far from a light dish, so consider getting a plate to share.
Dampfnudel
Another Christmas market treat popular in Southern Germany is Dampfnudel, a fluffy cloud of bread topped with cinnamon and a vanilla sauce.
It's so soft, so gooey, and absolutely perfect.
Marzipan
Marzipan is a classic Christmas market treat made with eggs, almonds, sugar and honey.
At Christmas markets all across Europe, you'll find them in a variety of cute shapes, making them an excellent to-go treat or souvenir.
Chocolate covered fruit
For another tasty Christmas market treat that's a little lighter, be sure to check out the wide variety of chocolate-covered fruit skewers available.
While of course, these aren't the most "unique" of Christmas market foods, they're nonetheless absolutely delicious.
Waffles
Waffles are a delicious treat that require no introduction.
This tasty batter is cooked in the perfect grid-like shape for all your toppings, whether you go for whipped cream, fresh fruit, nutella or jam.
You'll find at least one waffle stand at pretty much every Christmas market, so be sure to take advantage!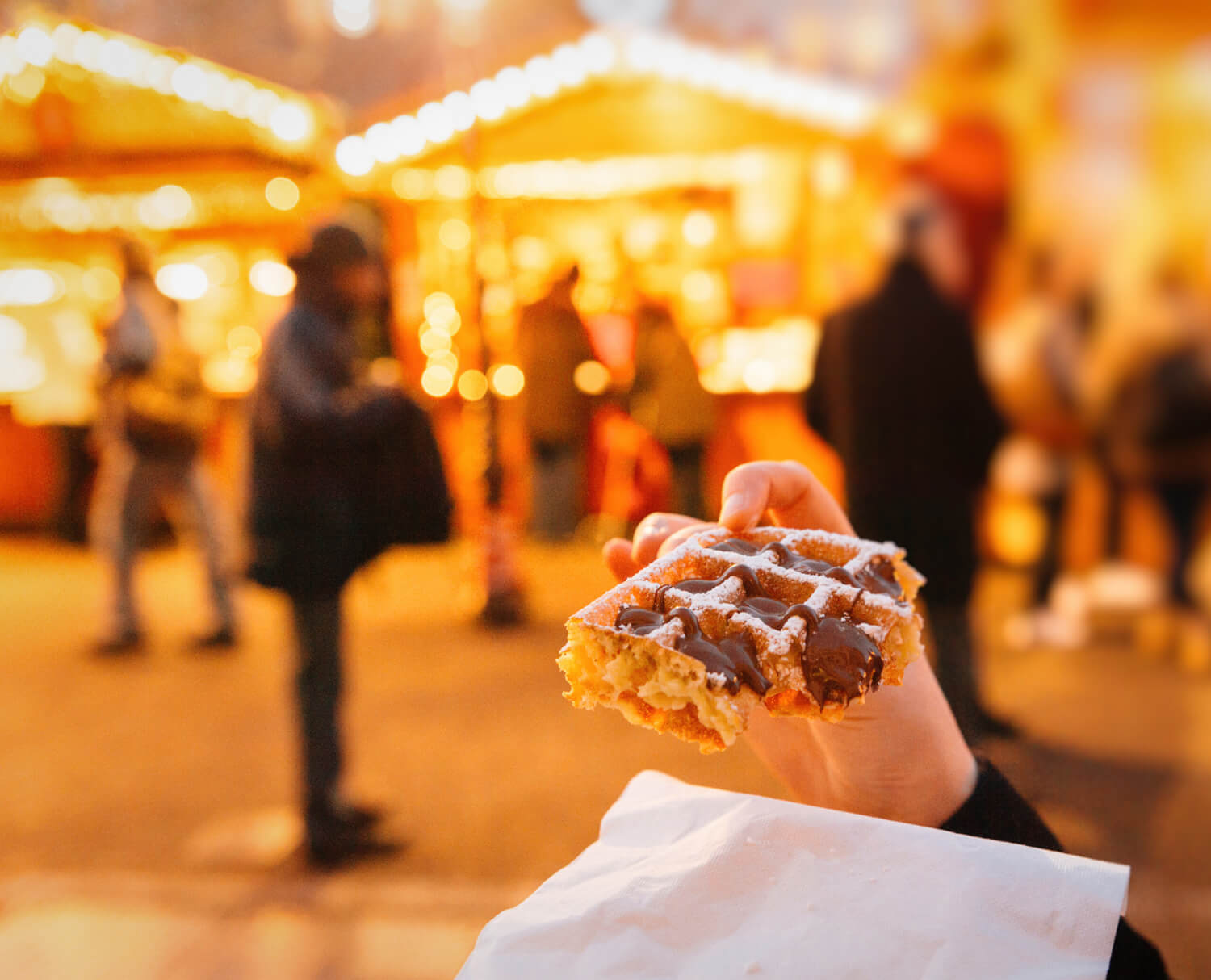 Crêpes
Another Christmas market classic is the oh so handy crêpe, a thin pancake filled with anything you can imagine, from sweet fillings like banana, strawberries and Nutella to savoury versions with cheese and meats.
You'll usually be able to find a crêpe stall at every Christmas market (often also selling waffles and other sweet treats), so keep an eye out!
Roasted Chestnuts
This treat is commonly sold as…
Heiße Maroni (in German)
Marrons chauds (in French)
Roasted chestnuts are a treat so synonymous with Christmas, there's an entire song about them… so it should be no surprise that they've made it onto our top German Christmas market foods list!
Roasted chestnuts are tender, slightly sweet, and oh so addictive. Definitely a great snack to nibble on while shopping through any Christmas market.
Gingerbread
This treat is commonly sold as…
Lebkuchen (in German)
Pain d'Épices (in French)
If your only experience with gingerbread is the rock-hard stuff you get in your gingerbread house kits, then you definitely need to try some gingerbread while exploring European Christmas markets!
While regional types differ, one common denominator is they're all delicious. The Elisenlebkuchen from Nuremberg Christmas Market is especially famous – it's made from a delicate mix of ground nuts, eggs, and citrus. So light and tasty!
NOTE: The adorable gingerbread hearts you see for sale at many Christmas markets aren't meant to be eaten! While edible, they're made to last a long, long time, so are pretty rock hard and not too tasty.
Did we miss any of your favorite Christmas market foods?
Let us know in the comments what you would add to this list!