*FYI - this post may contain affiliate links, which means we earn a commission at no extra cost to you if you purchase from them. Also, as an Amazon Associate I earn from qualifying purchases. Check out our Privacy Policy and Disclosure. for more info.
Esslingen Christmas Market is known for its location in one of the most festive and picturesque cities in Germany, as well as its perfect mix of a traditional Christmas market and one of the most extensive Medieval markets in the country.
We first visited this Baden-Württemberg Christmas market in November 2018 and fell in love with the city's fairytale-worthy beauty, its uniquely extensive Medieval Christmas market, as well as its ideal proximity to other amazing Christmas markets in the area.
Looking to learn more about Esslingen Christmas market, or perhaps need some guidance on planning your own trip there?
In this post, we'll be covering…
Practical Info for Esslingen Christmas Market
A Brief History of Esslingen Christmas Market
Why Visit Esslingen Christmas Market?
Christmas Markets in Esslingen to Visit
More Photos of Esslingen Christmas Market
We hope you find it helpful and interesting!
Practical Info for Esslingen Christmas Market
Here are some quick must-knows for Esslingen Christmas Market this year:
In need of a place to stay? Here are some quick hotel recommendations:
A Brief History of Esslingen Christmas Market
Like for many cities in Germany, Christmas market traditions in Esslingen have a lengthy history.
However, it wasn't until 1998 (the year of Esslingen's first Medieval Christmas Market) that the city really became known as one of the most unique Christmas market experiences in Germany.
These days, Esslingen's list of festive accolades is filled with prestigious titles, including the title of "Best Christmas City" back in 2018.
BONUS PIECE OF HISTORY: Here's a lovely and rare archive photo of the Esslinger Weihnachtsmarkt from the 80s!
Why Visit Esslingen Christmas Market?
Wondering whether Esslingen Christmas Market is worth a trip? Here are some reasons to visit:
Esslingen's medieval market is incredible
While other cities in Germany have medieval Christmas markets (like Munich and Essen for example), the one in Esslingen wins by far when it comes to size and commitment to the theme.
For four weeks, the streets of Esslingen's old town are filled with fun medieval carnival attractions, unique performances, and a slew of old-timey merchants selling fun themed goods like drinking horns and "potions" in bottles.
Of course, if you're looking for a more traditional Christmas market experience, the regular Esslingen Christmas Market is just steps away, meaning you can get the best of both worlds in a single trip.
Esslingen is one of the prettiest fairytale towns in Germany
Filled with gorgeous medieval half-timbered facades, Esslingen is well worth a visit any time of year… but at Christmas is when the city's fairytale appeal reaches its peak. If it's a true storybook aesthetic you're looking for, Esslingen's Christmas market scene is definitely one to add to your bucket list.
It's close to many other beautiful Christmas markets and towns
Due to its size, Esslingen's Christmas markets make the perfect day trip, but there are tons of other excellent Christmas markets nearby if you want to round off your trip with more festive fun.
The Christmas markets in Stuttgart, Ludwigsburg, and Tübingen for instance are all reachable within an hour by train.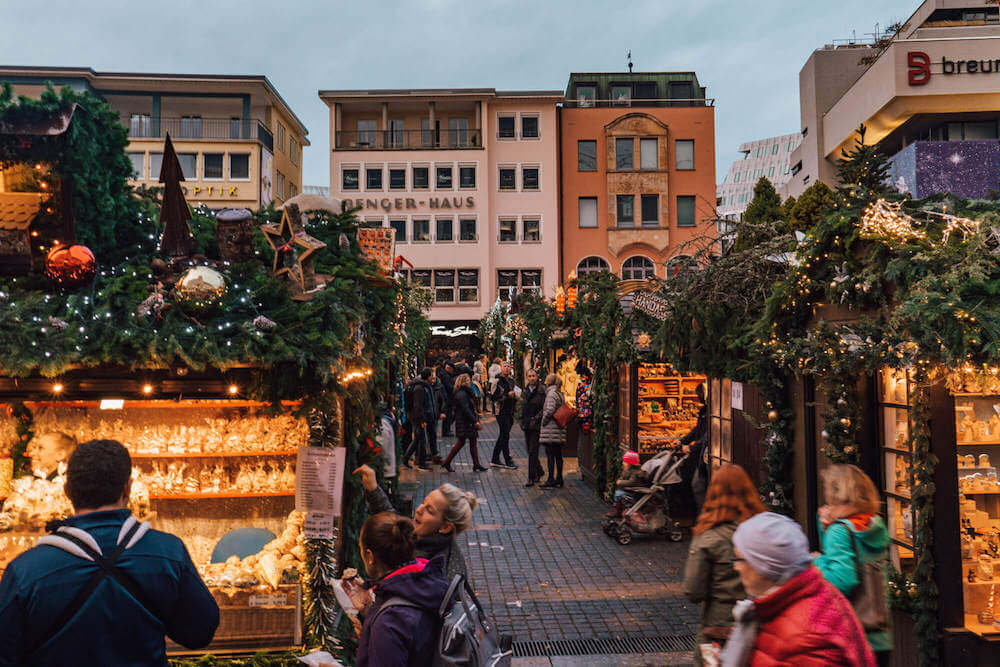 Looking for more Germany travel inspiration?
Check out these guides on the best places to visit in…
Christmas Markets in Esslingen Place to Visit
Wondering where to find Christmas market stalls in Esslingen? Here are the main locations of Esslingen Christmas Market:
Esslingen's Christmas Market at Marktplatz
At the Esslingen Christmas Market at Marktplatz, you will get to experience the traditional German Christmas market scene in all of its glory, with over 80 adorable wooden huts, dressed with garlands and golden baubles, offering all sorts of intricate Christmas ornaments, beautiful handicrafts, traditional wooden toys, and all the seasonal snacks you can wish for.
This magical festive scene is intensified by the stunning backdrop of the city's half-timbered houses against all the Christmassy decor.
A true Christmas fairytale comes to life!
Esslingen Medieval Christmas Market
Other German cities also have small sections of Medieval markets, but none of them compare to the size and dedication of Esslingen's.
In addition to your regular Christmas market shopping and eating opportunities, at the Esslingen Medieval Christmas market, you will also find endless options for entertainment, from roaming jugglers to stilt walkers and a never-ending rotation of performances on stage.
You can find this fun festive fair at the Rathaus, spreading into Hafenmarkt, with an especially kid-friendly section full of Medieval games and activities at Zwergenland.
More Photos of Esslingen Christmas Market
Looking for some more Esslingen Christmas Market eye candy? Here are some additional photos we captured during our visit:
We hope you enjoyed this Esslingen Christmas Market Guide!
Let us know in the comments if you have any more questions about your trip – we're always happy to help.
---
Must-Knows Before Visiting European Christmas Markets
Looking for additional tips before your Christmas market trip? Be sure to watch this video for some important must-knows!

---