*FYI - this post may contain affiliate links, which means we earn a commission at no extra cost to you if you purchase from them. Also, as an Amazon Associate I earn from qualifying purchases. Check out our Privacy Policy and Disclosure. for more info.
Cologne Christmas Market is known for its magical views of Christmas lights floating in the shadow of the Dom, some of the most beautifully decorated stalls in the country, and a very unique Christmas market that basically becomes an outdoor disco late into the night.
This is why it's widely considered to be one of the best Christmas markets in Germany.
We first visited this North Rhine-Westphalia Christmas market in December 2019 and loved the incredible attention to detail that was given to each individual market and their respective themes.
Looking to learn more about the Cologne Christmas market, or perhaps need some guidance on planning your own trip there?
In this post, we'll be covering…
Practical Info for Cologne Christmas Market
A Brief History of Cologne Christmas Market
Why Visit Cologne Christmas Market?
Christmas Markets in Cologne to Visit
More Photos of Cologne Christmas Market
We hope you find it helpful and interesting!
Practical Info for Cologne Christmas Market
Here are some quick must-knows for Cologne Christmas Market this year:
Dates: Most markets open Nov 23 – Dec 23, 2023 (Check official websites for each for exact opening dates)
Official website: Cologne.de
In need of a place to stay? Here are some quick hotel recommendations:
Cologne Christmas Markets Video
Want to see the magic of Cologne's Christmas markets in video form? Check out this video on YouTube:
---
A Brief History of Cologne Christmas Market
According to the Heinzels Wintermärchen website, Christmas market traditions in Cologne's Old Town date back to 1820, when the city's Nikolaimarkt opened up for the first time, quickly enchanting visitors and becoming a one month tradition every year during the festive season.
65 years later, Cologne's City Council made the controversial decision to ban Christmas markets in Cologne's Alter Markt, claiming that the festivities had changed too much over the years, becoming much too large and loud.
While attempts were made as the years went on to revive the market, it wasn't until 1970 that a Christmas market was re-introduced to Neumarkt, and then 7 years later, to Alter Markt as well.
But since then, Christmas markets in Cologne have been an unstoppable force. In 1995, the iconic Christmas market by Cologne Cathedral was introduced, followed by the Fairytale Christmas Market at Rudolfplatz in 1997, the Stadtgarten Christmas Market in 2006, the Harbour Christmas Market in 2011, and Christmas Avenue in 2012.
Today, Cologne is home to several exciting Christmas markets that are more than worth a visit. We hope this post helps you with all your trip planning needs!
Why Visit Cologne Christmas Market?
The decor is fantastic
Cologne's Christmas markets are some of the most beautifully decorated in Germany, with each market decorated according to unique themes with tremendous attention to detail. Of all the Christmas markets we've personally visited, we can definitely say that Cologne has some of the prettiest.
There's a wide variety of markets
From angel and harbor-themed markets to a charming mini Christmas village, each Christmas market in Cologne has its own unique personality, making explorations an absolute treat.
Looking for more Germany travel inspiration?
Check out these guides on the best places to visit in…
Christmas Markets in Cologne to Visit
The Cologne Christmas market is divided into smaller markets that spread throughout the city, each of them fantastic in their own way.
Here are the different Christmas markets in Cologne:
Nicholas' Village Christmas Market (Nikolausdorf)
This incredibly adorable man-made Christmas town, located in Rudolfplatz, is one of our absolute favorites in the city.
Consisting of charming half-timber houses, a sea of Christmas lights, and even its own little chapel, this ephemeral festive village will fill you with childlike wonder at the first glance.
This winter wonderland is also perfectly framed by the imposing Hahnentor, which joins the city in its holiday cheer by serving as a massive canvas for festive projections.
If you are visiting with kids make sure to locate Nikolashaus, a beautiful Christmassy space designed as an experience destination for the little ones in the family.
Cologne Cathedral Christmas Market (Weihnachtsmarkt am Dom)
Most of the visitors that come to the Cologne Christmas market will go straight to this market, nestled in the shadow of the city's famous Cathedral, and it's very easy to see why it gets all the attentio!
However, as gorgeous as that backdrop is, in terms of festive decor, we believe there are better Christmas markets in the city.
So, we recommend starting your Cologne Christmas market tour here, wander around its stalls, marvel at the beauty of the Cologne Cathedral while sipping a glass of Glühwein, and then keep moving.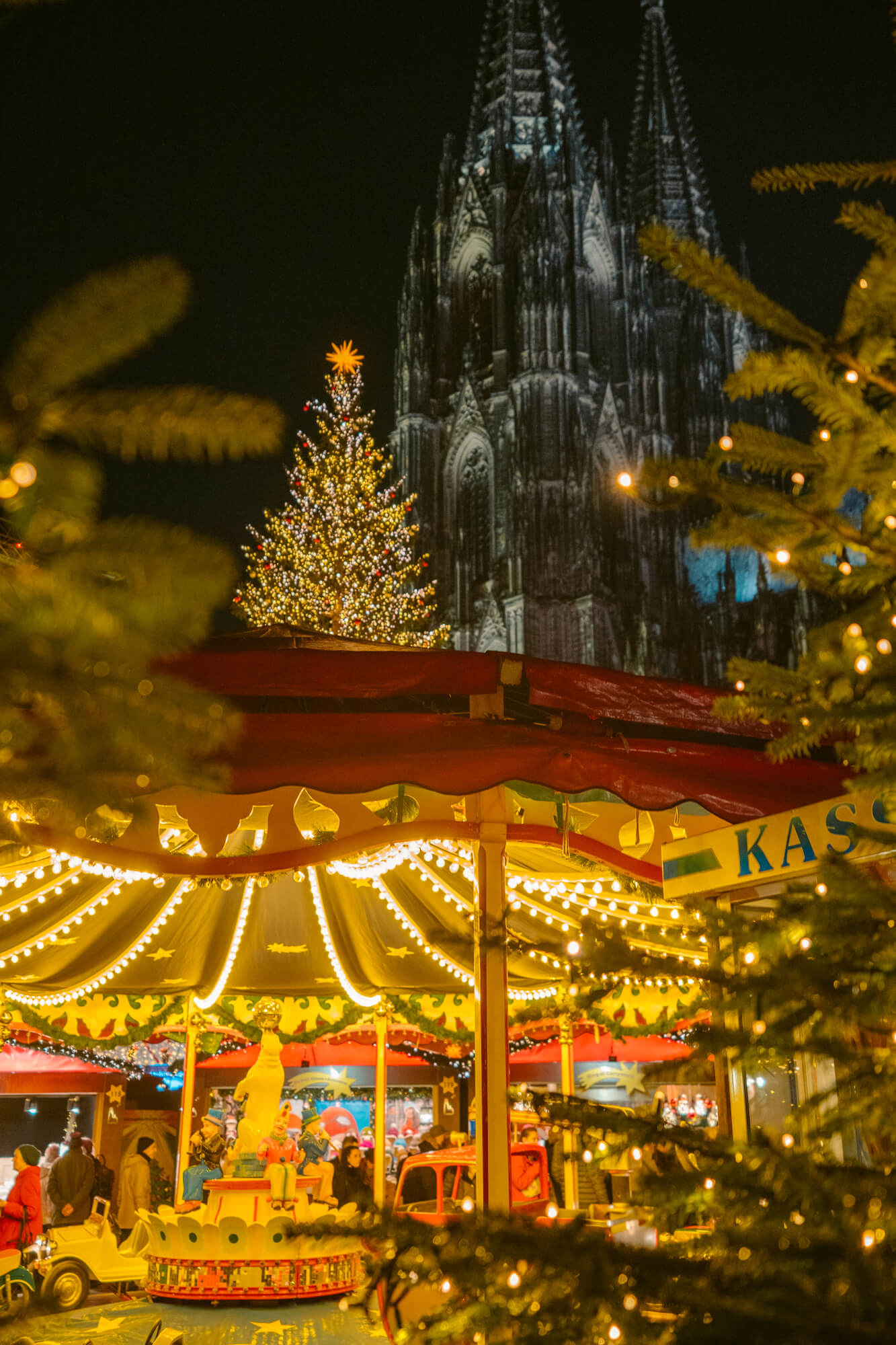 Cologne Harbour Christmas Market (Kölner Hafen-Weihnachtsmarkt)
Settled next to the famous river Rhine, this charming Christmas market in Cologne stands out from the rest by playing along with its location, and embracing a very unique nautical theme.
This relatively small market provides fewer options of stalls, but what it lacks in variety it makes up for with a captivating view of the river, and an open space you will not find in any other Christmas market in Cologne.
The Angels' Christmas Market (Markt der Engel)
This Christmas market in Cologne is located in the Neumarkt square, and it looks as magical as it sounds, with paper stars dangling high from the trees and the presence of literal angels on stilts, you feel as if you walked into festive heaven.
This particular market sets a very romantic atmosphere, with its cool-toned white Christmas decor warmed up by the light of the glistening paper stars above, and its adorable A-frame rustic cabins.
The House Elves' Winter Fairytale Christmas Market (Heinzels Wintermärchen)
As mentioned previously, the Cologne Christmas market is one of the prettiest in the country, and this specific location takes the gold as the most exquisitely decorated Christmas market in Cologne.
Stepping into The House Elves' Winter Fairytale Christmas Market is like stepping right into a Christmas world out of an old storybook. Everything is just picture perfect!
The market is themed after the city's famed Heinzelmännchen—legendary house elves, who are believed to take care of locals' housework as they sleep.
The attention to detail here is astonishing, from their extremely cute themed mugs to the fun central skating rink and their extravagantly decorated cabins, this place is what Christmas market dreams are made of.
You will be able to experience this delightful Cologne Christmas market in the Old Town area, spilling into Heumarkt and Alte Mark.
So, take your time to explore and marvel at all the details of the spectacular House Elves' Winter Christmas market!
Stadtgarten Christmas Market
If what you want is a more laid-back vibe, and would rather blend in with the locals, instead of the tourist crowds, you need to visit the Stadtgarten Christmas market.
Nestled under the trees of a city park, this Cologne Christmas market gives off some real "magical-village-in-the-middle-of-an-enchanted-forest" vibes.
And, while being located in the young and trendy Belgian quarter, this market seems to be geared towards the local consumers more than to the tourists, which makes it an excellent place to spot more unique souvenirs—since almost no booth here sells mass-produced items.
Instead, here you will find artisanal food products and some flamboyant Karneval hats.
Heavenue Cologne – the Gay Christmas Market
The Christmas markets in Cologne are known for their unique personalities and themes, and the one located in Heavenue (previously known as Christmas Avenue) fits the description just right.
Cologne, known as the gay capital of Germany, celebrates its title with this super fun gay Christmas market.
The Heavenue is a modern take on the traditional Christmas market, with its flashy LED lights, white garlands, flamboyant adornments, and an assortment of food trucks, it strays from tradition in the best way possible.
Similarly, as with other Christmas markets in Cologne, you will find a diversity of shops here, however, we recommend to leave the shopping for another occasion and arrive here later in the evening, when the market comes alive with music, and the Glühwein-infused crowds dance through the night.
More Photos of Cologne Christmas Market
Want to see more of what is waiting for you at the Cologne Christmas market? Here are some more visuals to inspire your next trip there: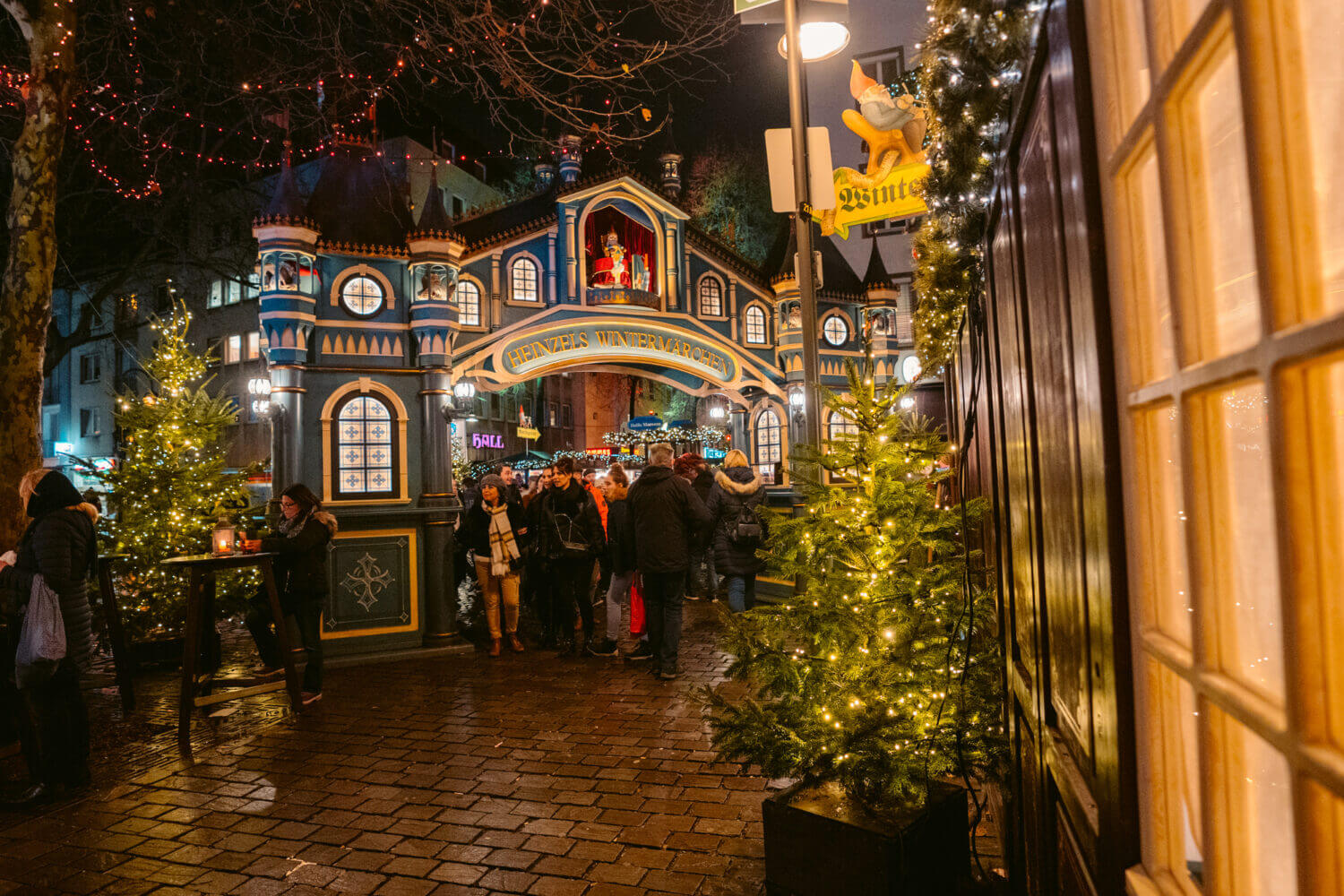 We hope you enjoyed this Cologne Christmas Market Guide!
Let us know in the comments if you have any more questions about your trip – we're always happy to help.
---
Must-Knows Before Visiting European Christmas Markets
Looking for additional tips before your Christmas market trip? Be sure to watch this video for some important must-knows!

---