*FYI - this post may contain affiliate links, which means we earn a commission at no extra cost to you if you purchase from them. Also, as an Amazon Associate I earn from qualifying purchases. Check out our Privacy Policy and Disclosure. for more info.
Berlin's Christmas Market scene is known for its massive size.
Hosting over 60 individual markets throughout the city, it guarantees an array of different experiences, from your traditional German Christmas markets to some more quirky festive markets that are unique to the bustling capital.
Due to the sheer amount of options you will find here, it is widely considered to be one of the best Christmas markets in Germany.
We first visited this Christmas market in December 2019 and loved how many markets there are to explore, and how this exciting city added its own twist to the traditional Christmas market to create a truly unique experience.
Looking to learn more about the Berlin Christmas market scene, or perhaps need some guidance on planning your own trip there?
In this post, we'll be covering…
Practical Info for Berlin Christmas Markets
A Brief History of Berlin Christmas Markets
Why Visit Berlin's Christmas Markets?
Christmas Markets in Berlin to Visit
We hope you find it helpful and interesting!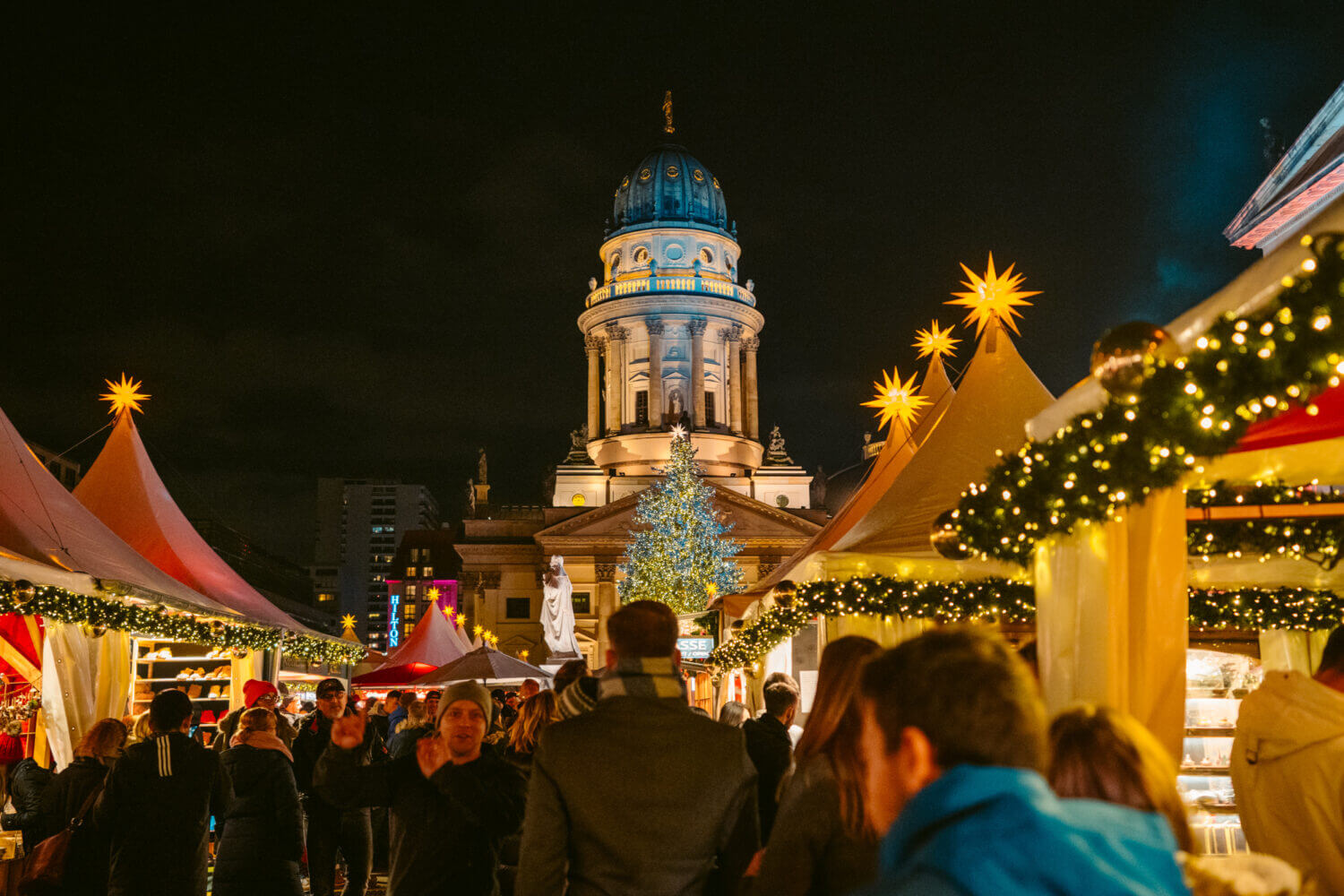 Practical Info for Berlin Christmas Market
Here are some quick must-knows for Berlin Christmas Market this year:
In need of a place to stay? Here are some quick hotel recommendations:
A Brief History of Berlin Christmas Market
According to historical records, Christmas markets have existed in Berlin in some form since the 15th century, when sellers apparently sold honey cakes and other sweet treats leading up to Christmas.
By the year 1650, there were over 50 stalls scattered around streets like Petriplatz, Gertraudenstraße, Köllnischer Fischmarkt, Mühlendamm, Molkenmarkt, Poststraße, and Heiligegeiststraße.
As the market expanded, it was necessary to move the market to a larger space, which is why 100 years later, the festivities were relocated to Breite Strasse (with permission from the King, of course!)
By 1805, the Christmas market would already have over 300 stalls, doubling to 600 by 1830.
From then on, Christmas markets in Berlin were unstoppable, despite many obstacles and threats. Several relocations, new openings, and two World Wars later, Christmas markets continue to thrive in Berlin, where today you'll find over 60 markets available throughout the festive season.
We hope this post helps you plan the perfect trip to see them!
Looking for more Germany travel inspiration?
Check out these guides on the best places to visit in…
Why Visit Berlin Christmas Market?
Sheer variety
As the capital of Germany, Berlin is not only the largest city in the country by population, but also by area. This explains why Berlin hosts upwards of 60 markets every season, meaning you have plenty of choices to choose from no matter when you visit.
Unique Christmas markets
Thanks to its large number of options, Berlin is also home to some of the most unique (and small) Christmas markets in Germany, with awesome options like a dog-themed Christmas market, a vegan-only market, and even a Christmas market entirely dedicated to dessert.
Berlin is awesome!
Lastly, Berlin is a great city to visit regardless of Christmas markets, so if you're looking for a fun trip that encompasses world-class museums, vibrant nightlife, and a delicious food scene in addition to fun Christmas markets, then Berlin is a great choice.
Christmas Markets in Berlin to Visit
The Berlin Christmas market scene expands far and wide, following the shape of the city, and with its more than 60 individual venues sprinkled around, the possibilities for places to celebrate the festive season are endless.
Since listing every single Berlin Christmas market would take way too much time, here are some of the most popular Christmas markets in Berlin that we recommend:
1. Lucia Christmas Market (Lucia Weinachtsmarkt)
This enchanting Berlin Christmas market is situated in the courtyard of the Kulturbrauerei; a retired brewery turned culture space that nowadays houses clubs, theatres, and Berlin's largest indoor New Year's Eve party.
With a whimsical Nordic theme, adorable wooden cabins and a diverse mix of stalls, this market goes to the top of our list for having one of the coziest atmospheres out of the Christmas markets in Berlin.
You can also find a wide variety of fun international products at this market, ranging from a tiny cart selling absinth to booths selling Finnish specialties, Icelandic sweets, French salami, and Sami jewelry.
A Christmas market as diverse and multicultural as its host city!
2. Charlottenburg Palace Christmas Market
The Charlottenburg Palace Christmas Market in Berlin is widely known to be one of the most beautiful festive markets in the city.
Elegantly nestled inside the palace courtyard, and with a much larger outer market filled with charming wooden chalets selling seasonal goodies, it's easy to spend a few hours strolling through this romantic location.
3. Christmas Market at Klunkerkranich (Weinachtsmarkt im Klunkerkranich)
To get a true taste of Berlin's notorious cool and alternative vibe you need to visit the Christmas market at Klunkerkranich, a very "Berlin-esque" take on the traditional German Christmas market that we all know and love.
This Berlin Christmas market is located on the rooftop of a shopping center, and the only way to get to it is by taking an elevator up to the 5th floor of the parking garage, and then walking up a ramp, where amazing views and a one-of-a-kind Christmas market awaits.
Staying true to Berlin's contemporary and artsy reputation, you can also expect to see art installations sprinkled throughout the festive market.
Unfortunately, there is a small admission fee to pay (between 1 to 5 euros depending on when you visit), but this is such a unique Berlin Christmas market experience that we we believe is worth the fee.
4. Friedrichstrasse Christmas Market
This Berlin Christmas market is relatively small compared to other ones on this list, however its cozy size and easy-to-miss location makes it that much more special.
Located right outside one of the city's busiest train stations, it's truly a surprise how tranquil this Berlin Christmas market feels, with its mesmerizing light installations and cozy seating area that consists of festive covered chalets.
5. Rotes Rathaus Christmas Market
If you are all for eating and drinking, but would also like to try other festive activities, make sure to stop by the Rotes Rathaus Christmas market in Berlin.
Apart from being settled at a top-notch location with the Rotes Rathaus as a backdrop, and a clear image of the TV Tower, this Berlin Christmas market also provides fun seasonal activities such as a colossal Ferris wheel that you can ride, and an ice skating rink that surrounds the imposing Neptune Fountain.
Because of these fun elements, this market can get quite crowded later in the day, so make sure to get here early to be able to peacefully walk around and admire the charming wooden chalets and Christmas decorations.
6. Kaiser Wilhelm Memorial Church Christmas Market (Weihnachtsmarkt an der Gedächtniskirche)
The Kaiser Wilhelm Memorial Church Christmas market is another very popular one that you should not miss, with its impressive variety of food and craft stalls on offer—over 170 to be specific—there is surely enough options for you to discover something amazing!
One thing that we really appreciate from this specific market is its dedication to providing some of the cutest mugs we have ever seen at a Christmas market, from chubby snowmen mugs to frosted wine glasses and glassy mugs filled with mulled rosé, if you also love adorable festive drinkware this is the place to find it.
Whether you prioritize the adorable mugs or the assortment of festive food stalls, make sure not to miss this Berlin Christmas market if you are around West Berlin.
7. The Alexanderplatz Christmas Market
Another one that makes it on our list of the best Christmas markets in Berlin is the Alexanderplatz Christmas market, without a doubt, one of the most photographed Christmas markets in the city due to its unmatched location right by the recognizable Berlin TV Tower.
Although this market is confined by relatively modern and dull buildings, the Christmas spirit is still very much present with the existence of a festive skating rink, delicious food options, and warm seasonal beverages served in adorable mugs.
8. Christmas Magic at Gendarmenmarkt (WeihnachtsZauber at Gendarmenmarkt)
The Gendarmenmarkt Christmas market in Berlin is one of the best ones in the city, and even though popular places tend to be annoyingly crowded, they are that popular for a reason.
Right after paying its 1 euro entrance fee and stepping into the festive square, you will quickly realize why the crowds flock to visit this particular market year after year.
This Berlin Christmas market offers a wide variety of foods, an impressive range of unique vendors, and a magnificent location lined with some of Berlin's most beautiful buildings— mix it all together and you get the perfect formula for an unparalleled Christmas market experience.
Try to give yourself enough time to explore this beautiful market, there is so much to see, you will not want to rush through it.
We hope you enjoyed this Berlin Christmas Market Guide!
Let us know in the comments if you have any more questions about your trip – we're always happy to help.
---
Must-Knows Before Visiting European Christmas Markets
Looking for additional tips before your Christmas market trip? Be sure to watch this video for some important must-knows!

---