*FYI - this post may contain affiliate links, which means we earn a commission at no extra cost to you if you purchase from them. Also, as an Amazon Associate I earn from qualifying purchases. Check out our Privacy Policy and Disclosure. for more info.
Vienna's Christmas Market scene is a tough one to beat.
With over a dozen stunning markets ranging from cute and cozy to grand and elegant, the magical city that is Vienna becomes even more impressive in the festive season, with market stalls popping up all over in the city's squares and courtyards.
Little wonder why it's one of the most popular Christmas market destinations in Austria!
Looking to learn more about Vienna's Christmas markets, or perhaps need some guidance on planning your own trip there?
In this post, we'll be covering…
Practical Info for Vienna Christmas Market
Why Visit Vienna for Christmas Markets?
Christmas Markets in Vienna to Visit
We hope you find it helpful and interesting!
NOTE: This is a Christmas market we haven't personally visited yet, so all the information below is taken from official sources for your reference! If you have any personal tips from first-hand experience to add, let us know in the comments so we can improve this guide!
Practical Info for Vienna's Christmas Markets 2023
Here are some quick must-knows for Vienna's Christmas Market scene this year…
Dates: Exact dates depend on the market, but there are markets scheduled from Nov 10, 2023 to Jan 7, 2024. See our list of Austrian Christmas Market Opening Dates for each market's exact opening dates.
Official website: Find more info here
In need of a place to stay? Here are some quick hotel recommendations:
Why Visit Vienna for Christmas Markets?
Wondering if Vienna's Christmas markets are worth visiting? Here are some reasons to add it to your list!
Variety
Unlike smaller towns which only have one main Christmas market, Vienna has over a dozen Christmas markets scattered around the city for you to visit, meaning it's pretty impossible to get bored.
Stunning locations
Besides offering a wide variety of markets, Vienna also happens to host them in some of the most grandiose venues on the continent, from royal palace courtyards to sprawling, world-famous squares.
It's Vienna
Vienna is widely considered to be one of the most beautiful cities in the world (which we can definitely confirm after several visits).
And while we still haven't seen the magic of Vienna at Christmas time for ourselves, we can only imagine how wonderful the entire city would look illuminated in lights!
There's really no bad time to visit Vienna, so a Christmas trip here would definitely be a great choice.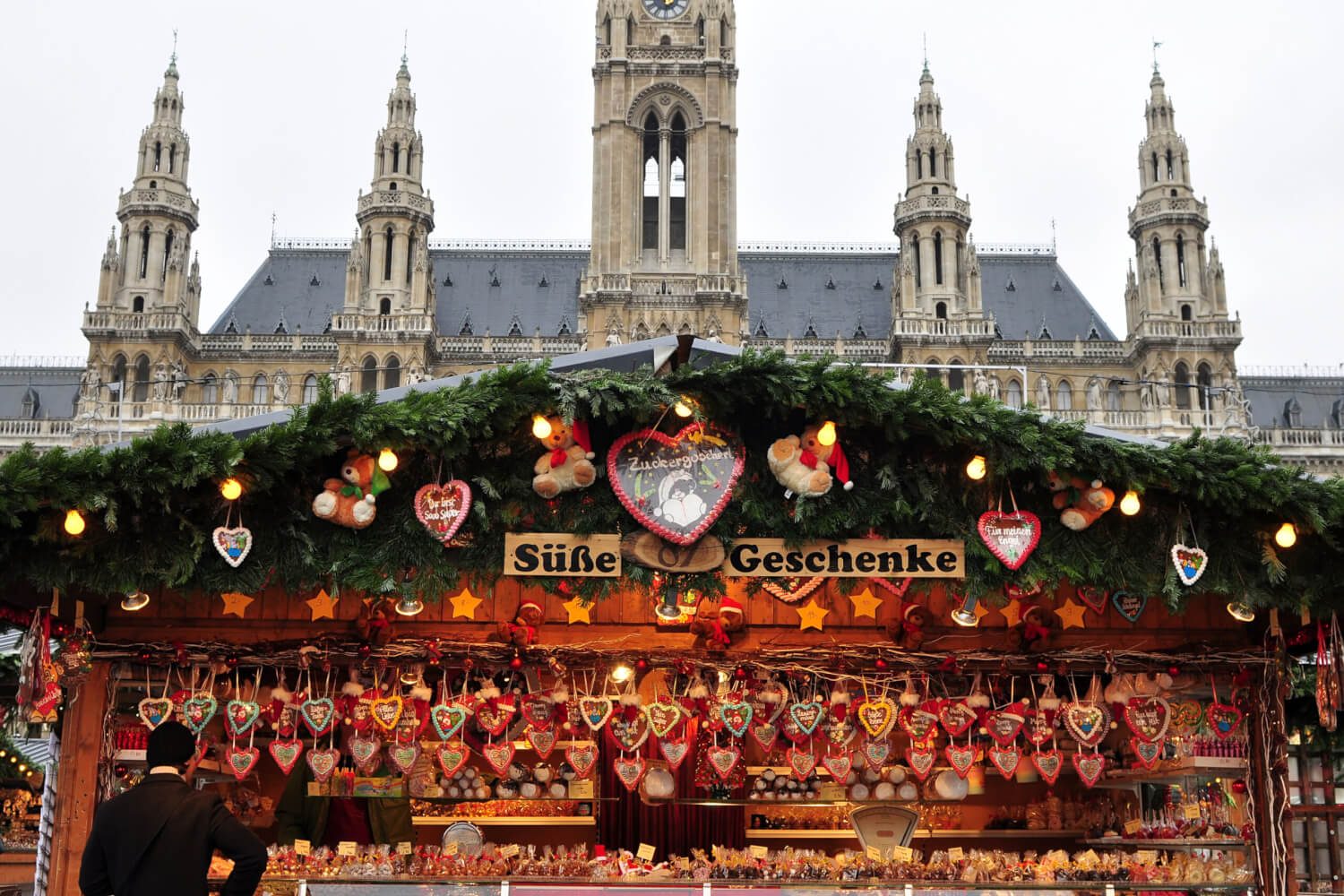 Christmas Markets in Vienna to Visit
Vienna has several Christmas markets for visitors to see during the festive season. Here are some highlights:
Viennese Dream Christmas Market
With Vienna's neo-gothic City Hall as its backdrop, it's little wonder why the Viennese Dream Christmas Market in Rathausplatz is one of the city's most famous Christmas markets.
With 150 stalls plus festive decorations scattered around the surrounding park, this is also Vienna's largest Christmas market.
While a visit here involves dodging some serious crowds in peak season, you'll be rewarded with plenty of tasty food stalls, and chalets selling all kinds of wonderful gifts.
Christmas Village Belvedere Palace
For another Christmas market in Vienna with an elegant and gorgeous backdrop, be sure to visit the glittering Christmas Village at Belvedere Palace.
This beautiful Baroque palace is home to over 40 festive stalls throughout the Christmas market season, with plenty of handcrafted gifts, decorations, and (naturally) delicious foods to stock up on.
Christmas Village on Maria Theresien Square
Sandwiched between Vienna's Museum of Natural History and the Museum of Art, the picture-perfect Christmas Village on Maria Theresien Square is another Vienna Christmas market highlight.
Besides its breathtaking atmosphere (made all the more magical through light projections on the square's facades), you'll find the usual Christmas market classics here like gifts and culinary crowdpleasers.
k.u.k. Weihnachtsmarkt
am Michaelerplatz
This small Christmas market can be found in the shadow of Vienna's Hofburg Palace, with a cozy cluster of white stalls selling decorations, toys, gifts, and most importantly, Christmas market treats!
Christmas Village Former General Hospital
For a cozier Christmas market in Vienna, the Christmas Village Altes AKH is a great option, with richly decorated stalls arranged along narrow walkways selling glühwein and gifts.
Christmas Market at Schönbrunn Palace
This Vienna Christmas Market takes place in front of one of the city's top attractions: the glorious Schönbrunn Palace, which is decorated at Christmas time with a towering tree and over 60 stalls selling handicrafts and tasty festive treats.
Christmas Market at Spittelberg
For a less touristy alternative to Vienna's main Christmas markets, the Christmas Market at Spittelberg offers up a wide assortment of handmade gifts in a beautiful setting – a historic heritage district filled with narrow streets and fairytale architecture.
Art Advent
Art Advent at Karlsplatz is one of Vienna's most special markets, not just because of its glorious location in the shadow of Vienna's Karlskirche, but also because of its unique focus on arts and crafts.
Here, you'll find handcrafted products/art that you won't find elsewhere in the city, all in one seriously magical location.
Wintermarkt Riesenradplatz
Located in Vienna's famous Prater Gardens, this "Winter Market" is one of the top Christmas destinations in the city, with plenty of live performances and a program full of entertainment for guests of all ages.
Altwiener Christkindlmarkt
Another key player in Vienna's Christmas market scene is the Altwiener Christkindlmarkt, which has been taking place for over thirty years in various locations across the city.
This traditional Christmas market can be found in the Freyung, surrounded by tall historical buildings that are guaranteed to transport you to another world.
One highlight to look out for? A lengthy nativity scene that is said to be the longest in the entire country!
Am Hof Advent Market
This lovely Vienna Christmas Market is known for its cozy ambiance, delightful selection of food and drink, as well as its wide variety of stalls selling handicrafts and gifts.
You'll even find a special Kunsthandwerkmarkt here, where there are stalls selling truly unique handmade goods (in contrast to the mass-produced products you might find in some of the more popular Christmas markets in the city).
Christmas Market on Stephansplatz
This mega-central Vienna Christmas Market can be found in one of the busiest tourist areas of the city: Stephansplatz, just outside of the towering Stephansdom, one of the key highlights of Vienna's skyline.
At this market, you'll find dozens of stalls selling the typical Christmas market classics, from decorations and food products to plenty of to-go culinary offerings.
Advent Genussmarkt
Foodies, rejoice! There's a special Vienna Christmas market just for you – the Genussmarkt near Vienna's State Opera, which focuses on regional delicacies from local producers, ranging from cheese and sausage to ready-to-consume options like mulled wine and roasted chestnuts.
PS: As a bonus, this Vienna Christmas Market is covered, making it an excellent rainy day option.
We hope you enjoyed this Vienna Christmas Market Guide!
Let us know in the comments if you have any more questions about your trip – we're always happy to help.
---
Must-Knows Before Visiting European Christmas Markets
Looking for additional tips before your Christmas market trip? Be sure to watch this video for some important must-knows!

---