*FYI - this post may contain affiliate links, which means we earn a commission at no extra cost to you if you purchase from them. Also, as an Amazon Associate I earn from qualifying purchases. Check out our Privacy Policy and Disclosure. for more info.
Christmas in Copenhagen is a wonderful time to enjoy the city, with plenty to offer visitors from the magical atmosphere at Tivoli Gardens, to delightful Christmas markets in Nyhavn and The King's New Square.
If you're currently planning your own trip, or simply curious about what Copenhagen Christmas Market is like, then we're here to help.
We last visited these markets in December 2021, and were enchanted by the cozy atmosphere of the city's little markets and most of all, the sheer extravagance of Tivoli Gardens at Christmas time.
Read on for an overview of the Copenhagen Christmas Market scene, with official dates, hotel recommendations, photos & more.
Copenhagen Christmas Market Dates
As many of Copenhagen's Christmas Markets are organized independently, their opening dates do vary slightly.
Here are the confirmed dates we know of so far for 2023:
King's New Square Christmas Market (Julemarked Kongens Nytorv): Nov 3 – Dec 21, 2023
High Bridge Square Christmas Market (Julemarked Højbro Plads): Nov 3 – Dec 21, 2023
Christmas in Tivoli: Nov 17 – Dec 31, 2023
HC Andersen Christmas Market (Julemarked HC Andersen): Nov 17 – Dec 21, 2023
Official Copenhagen Christmas Market Websites
For the most up-to-date information and announcements, be sure to visit the official websites for Copenhagen's different Christmas Markets, like:
Copenhagen Christmas Market 2023 Hotels
Looking for a place to stay nearby while you visit Copenhagen's Christmas markets? Here are some recommendations:
VIDEO: Best Things to Do in Copenhagen at Christmas
Copenhagen Christmas Market Locations
Wondering where to find the best Christmas markets in Copenhagen? Here is a quick overview:
Tivoli Gardens
We have to start with our personal favorite during our visit: Christmas at Tivoli Gardens.
We'd highly recommend saving this spot for last, as no other will be able to compare!
These gardens are the world's 2nd oldest amusement park, and truly go all out at Christmas, with thousands of twinkling lights, jawdropping decorations and plenty of stalls selling festive food and drink. For an extra fee, you can also add an extra thrill to your visit by hopping on some of Tivoli's iconic rides.
While this is the only Copenhagen Christmas Market with an admission fee, we think it's well worth it, as the decorations are truly spectacular. If you're looking for the most magical Christmas market in Copenhagen to visit, this is it.
King's New Square (Kongens Nytorv)
For a more typical Christmas market setting, the Julemarked Kongens Nytorv (King's Square Christmas Market) is probably Copenhagen's most traditional Christmas market, offering a nostalgic maze of beautiful decorations and wooden stalls selling gifts and delicious treats.
Set in a historic square dating back to the 17th century, the atmosphere here is not only romantic and magical, but perfectly festive, and a great place to enjoy all the magic of Copenhagen at Christmas time.
High Bridge Square (Højbro Plads)
The Julemarked Højbro Plads (High Bridge Square Christmas Market) is another Copenhagen Christmas Market worth checking out.
This market offers a traditional Christmas market atmosphere similar to what you'd find in central Europe, with wooden stalls selling gifts and typical Christmas market foods like sausages.
Nytorv Square (Nytorv)
For a true fairytale experience, another Copenhagen Christmas Market you must visit is the H.C. Andersen Christmas Market (HC Andersen Julemarked), named after the famed Danish storyteller who brought us the original Little Mermaid.
This market is full of kid-friendly activities, and plenty of wonderful stalls selling food, drinks, and gifts.
Nyhavn
Nyhavn is Copenhagen's scenic harbour, and besides being one of the most photogenic places in the city, it also becomes a haven of hygge at Christmas time, with various outdoor stalls available throughout the festive season.
Freetown Christiania
For a more unconventional Christmas market experience in Copenhagen, be sure to visit the annual Christmas market in Freetown Christiania, the city's infamous district originally created when squatters took over a military base in the 70s.
At this Christmas market, you'll find multiple stalls selling handmade gifts like jewelry and candles.
What to Eat & Drink at Copenhagen's Christmas Markets
We spent two days eating our way around Copenhagen's Christmas markets and our waistlines have been screaming for help ever since.
Here are some of the most popular (and most delicious) must-tries in terms of food and drink around Copenhagen's Xmas market scene:
Gløgg
If there's a single must-have at Copenhagen's Christmas markets, it's Gløgg.
Think of Gløgg as the Nordic answer to Glühwein, Vin Chaud, or Mulled Wine.
Recipes vary widely, but at its core, Gløgg is a hot wine mulled with spices, often accompanied by juice, syrup or additional spirits.
After sampling a few Gløggs in Copenhagen, we may actually prefer it to traditional Glühwein! The overall taste is a bit sweeter, and there's usually a fair bit of dried fruit and slivered almonds waiting for you at the bottom of your cup.
Of course, the best way to find out is to just sample it for yourself…!
Æbleskiver
While directly translated to "apple slices", these fluffy balls of dough are more like pancakes, typically served with a large dollop of jam and powdered sugar for dipping.
We tried some at Tivoli, and were pleasantly surprised by their mild lemony flavor as well. We'd definitely recommend trying these Danish treats while exploring Copenhagen's Christmas markets – you won't regret it!
Byg Selv Hot Dog (Build it Yourself Hot Dog)
Hot dogs are a big deal in Scandinavia, which is why it's no surprise that sausages play a big role in Copenhagen's Christmas markets, as they do in the German Xmas market food scene.
Especially popular are "Byg Selv Hot Dogs", AKA Build it Yourself Hot Dogs that are given to your plain, to be jazzed up with your own choice of condiments and toppings.
If you're looking for a quick, satisfying, and relatively budget-friendly meal (by Copenhagen standards anyway), then make sure to grab one of these tasty hot dogs!
Lumumba
For another festive drink that's seen across all the Christmas markets in Copenhagen, go for a Lumumba.
This drink is simply cocoa with a shot of rum or amaretto… but the result is undeniably tasty, especially when you spring for the extra whipped cream and marshmallows on top!
Brændte Mandler (Roasted Almonds)
Follow your nose long enough while exploring the Christmas markets in Copenhagen and you're bound to find a stall selling Brændte Mandler – candied almonds that are coated in the most perfect caramelized sugar.
This is a must-have treat at any Christmas market, especially if they're hot and fresh!
More Photos of Copenhagen's Christmas Markets
Looking for more Copenhagen Xmas eye candy? Here are some more photos to show you what the markets look like: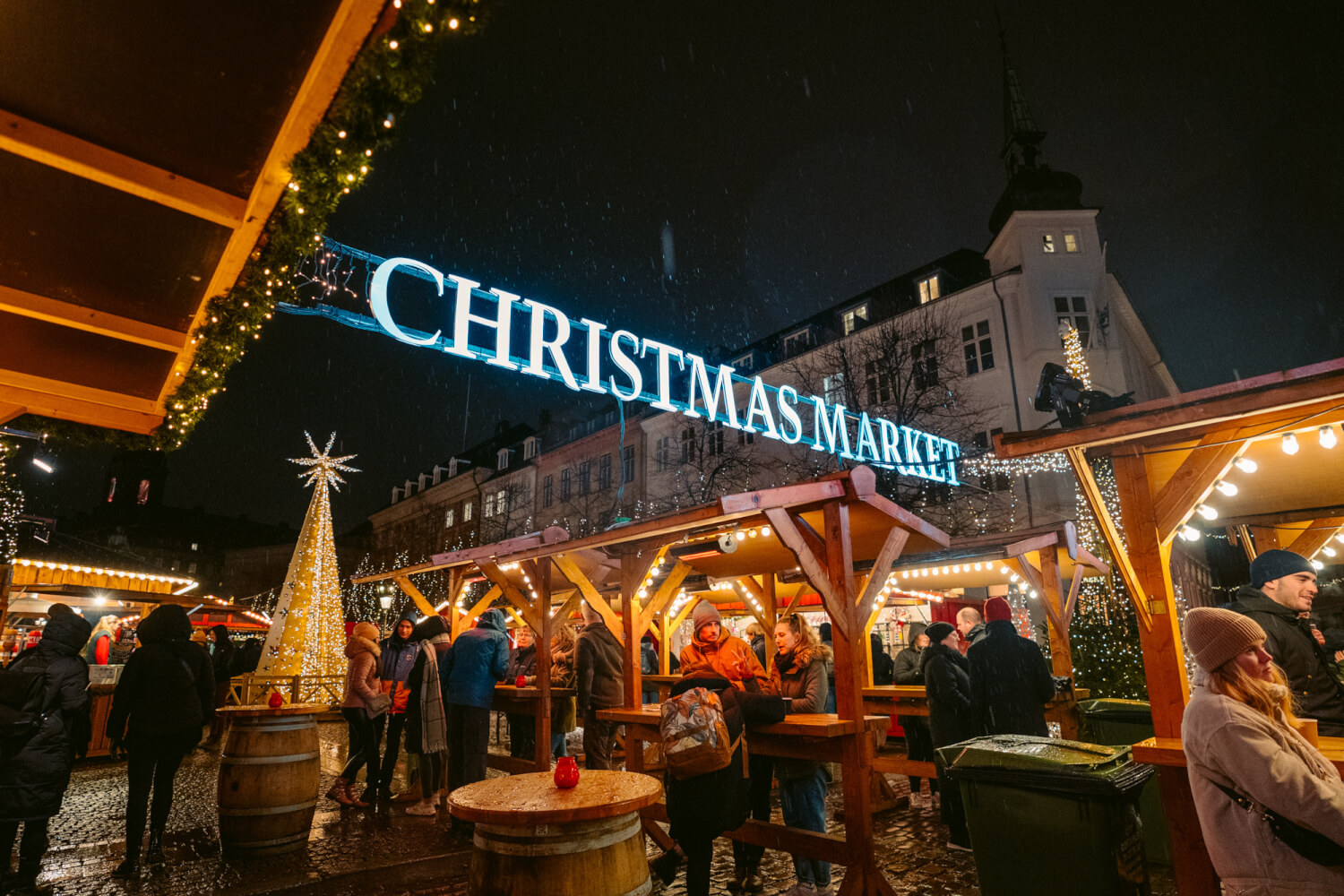 Help Us Improve This Copenhagen Christmas Market Guide!
We're constantly striving to make articles on this site more informative for our readers, so let us know in the comments if you've been to Copenhagen's Christmas Markets and if there are any tips or must-knows you'd like to share.
---
Must-Knows Before Visiting European Christmas Markets
Looking for additional tips before your Christmas market trip? Be sure to watch this video for some important must-knows!

---