*FYI - this post may contain affiliate links, which means we earn a commission at no extra cost to you if you purchase from them. Also, as an Amazon Associate I earn from qualifying purchases. Check out our Privacy Policy and Disclosure. for more info.
The Munich Christmas Market scene is known for its magnificent venues in grand historic locations, its wide variety of vendors, and its tasty range of seasonal snacks.
It's also widely considered to be one of the best Christmas markets in Bavaria, and Germany as a whole.
We first visited these Christmas markets in December 2019 and loved the wide selection of market styles Munich had to offer, as well as just exploring the city.
Looking to learn more about Munich's Christmas markets, or perhaps need some guidance on planning your own trip there?
In this post, we'll be covering…
Practical Info for Munich's Christmas Markets
A Brief History of Munich's Christmas Markets
Why Visit Munich's Christmas Markets?
Christmas Markets in Munich to Visit
More Photos of Munich's Christmas Markets
We hope you find it helpful and interesting!
Christmas Market Packing Essentials:
Practical Info for Munich's Christmas Markets
Here are some quick must-knows for Munich's Christmas Markets this year:
Dates: Nov 27 – Dec 23 (for the main market in Marienplatz; smaller market dates may vary)
Official website: Muenchen.de
In need of a place to stay? Here are some quick hotel recommendations:
Munich Christmas Markets Video
Want to see the magic of Munich's Christmas markets in video form? Check out this video on YouTube:
---
A Brief History of Munich's Christmas Markets
Alongside historic markets like the ones in Nuremberg and Frankfurt, Munich's Christmas Markets are considered among the oldest in the country.
The traditional Christmas market in Marienplatz is said to date back to the 14th century and continues to dazzle visitors every year with its stunning backdrop and magical atmosphere.
The nearby Kripperlmarkt (specializing in nativity scene figurines and crafts) was added to the scene in 1757.
Since these humble beginnings, Munich's Christmas market scene has only grown bigger and better, now with over a dozen markets in the city with unique themes and offerings.
Particularly noteworthy is the famous Wintertollwood Festival, devoted to ecological and environmental awareness, which has been taking place since 1991.
Why Visit Munich's Christmas Markets?
There's a huge variety of cool markets
Munich boasts one of the most unique collections of Christmas markets in Germany, with a wide selection including traditional markets (like the one in Marienplatz), a Medieval-themed market (held in Wittelsbacherplatz), an LGBTQ market (Pink Christmas), an eclectic fairytale market (the Märchenbazaar), and several other smaller neighborhood markets that will help you escape the tourist crowds.
Munich is stunning
Besides Christmas markets, Munich has a lot of wonderful offerings for visitors, including a number of world-class museums, historic landmarks, and of course, cozy beer halls to warm up after all that Christmas market hopping.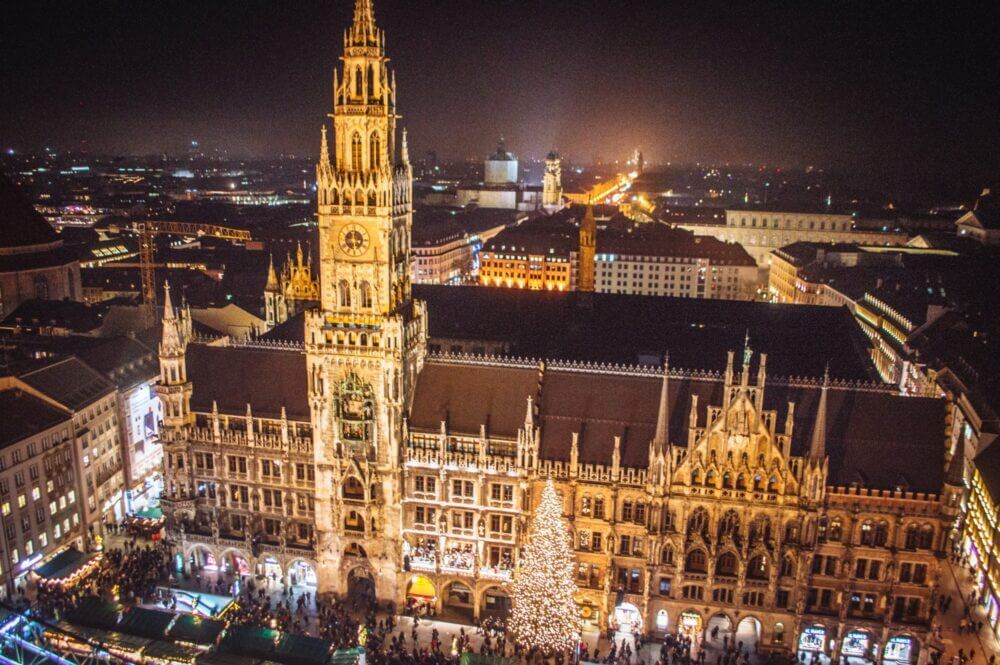 Looking for more Germany travel inspiration?
Check out these guides on the best places to visit in…
Christmas Markets in Munich to Visit
The Munich Christmas market scene offers a wide variety of markets to its yearly visitors, all of them special in their own way, and with distinctive themes or offerings that set them apart.
So, to make things easier, here are some of the best Christmas markets in Munich for you to visit! You can also find the markets mapped out here according to their closest U-Bahn station, if you're using public transport to get around.
1. Chinese Tower (Chinesischer Turm) Christmas Market
This Munich Christmas market location consists of a year-round beer garden that is transformed into a winter wonderland in the heart of Munich's English Garten, one of the largest city parks in the world.
This calm and romantic location tucked away from the Altstadt crowds offers everything you need from a Christmas market, from beautiful crafts to tasty snacks and, of course, the never-ending flow of Glühwein.
2. Munich Airport Christmas Market
The Munich airport Christmas market welcomes you fresh out of the plane with all its festive splendor, to give you a glimpse of the beauty that is Munich at Christmas time.
Here you can find some of the typical festive foods and drinks, making it a good place to stop for a quick snack and get in the holiday spirit before making your way into the city.
3. Residenz Christmas Village (Weihnachtsdorf im Kaiserhof der Residenz)
This dreamy mini-Christmas village, nestled in the courtyard of a royal palace, is located right next to Odeonplatz, and provides a good variety of stalls where you will find anything your Christmas heart desires; from traditional crafts to beautiful ornaments, and all sorts of tasty treats.
This Munich Christmas market location is very popular with tourists and locals alike, so make sure to stop by earlier on a weekday to avoid the crowds.
4. Winter Magic at Viktualienmarkt (Winterzauber auf dem Viktualienmarkt)
This year-round city market gets a Christmassy makeover during the winter months, with some new festive stalls added to the square, as well as string lights and garlands that amp up the coziness.
This Munich Christmas market offers a great range of delicious local products, as well as festive treats and warm seasonal drinks for you to try.
5. Marienplatz Chritmas Market (Münchner Christkindlmarkt)
One of the best Christmas markets in Munich—and definitely the most famous—is the one located in the heart of the city, at Marienplatz.
This Munich Christmas market has it all; history, tradition, an unmatched backdrop, stunning festive decor, and an assortment of stalls to cover all your shopping needs and cravings.
NOTE: Climb to the top of St Peter's Church after sunset to get this incredible view.
6. Sternenplatzl at Rindermarkt
This charming little market situated at Rindermarkt, boasts one of the most romantic atmospheres in the Munich Christmas market scene, with its cozy size, out-of-sight location, star-shaped Christmas lights floating in the trees, and the cutest Glühwein mugs we have ever seen!
7. Wintertollwood Festival
A grungy and alternative take on the traditional Munich Christmas market, this spot—located on the grounds of the famous Oktoberfest—offers its visitors an incredible assortment of events, performances, art installations, an amazing menu full of international cuisine options and a super fun party vibe that extends late into the night.
8. Medieval Christmas Market
Take a trip to a different time with this Medieval Christmas market, settled in Wittelsbacher Platz, just a short stroll away from the famous Odeonplatz.
This very unique venue surprises its visitors with everything from authentic drinking horns on sale, to firey rum drinks served on clay goblets, and live performances from costumed jugglers and acrobats.
Smaller Munich Christmas Markets
If you have explored all the bigger markets and still have some extra time, or want to experience some other festive gems, here are some smaller Christmas markets around the city that you should add to your list:
Märchenbazar | Leonrodplatz: Arsty and unconventional Christmas market, with a wide variety of international foods. Actually OPEN on Christmas day!
Neuhausen | Rotkreuzplatz: Charming cozy market with all the Christmas market essentials, and live entertainment.
Haidhausen | Weissenburger Platz: Lovely small market with a romantic vibe, a nice range of stalls, and a remarkable variety of Glühwein flavors.
Sendlinger Tor: Cute market set against the backdrop of an ancient city gate, surrounded by cool shops and bars, boasts an array of international products.
Schwabing | Münchner Freiheit: Bohemian market with a local vibe provides a great selection of artisan vendors, art installations and live entertainment.
Pink Christmas | Stephansplatz: Lively, warm and inclusive market in Glockenbachviertel, Munich's LGBTQ neighbourhood, with a fun party scene and live performances.
Werksviertel Mitte: Eccentric market with a local vibe, featuring cool shops built into shipping containers, impressive murals and peculiar festive stalls. It's also home to the biggest mobile ferris wheel in the world!
Alte Utting: A very unusual Christmas market held on an old ship perched on a railway bridge, offering a great assorment of stalls to shop at and eat, fun murals and performances.
More Photos of Munich's Christmas Markets
Want to see more of what is waiting for you at the Munich Christmas market scene? Here are some more visuals to inspire your next trip there:
We hope you enjoyed this Munich's Christmas Markets Guide!
Let us know in the comments if you have any more questions about your trip – we're always happy to help.