*FYI - this post may contain affiliate links, which means we earn a commission at no extra cost to you if you purchase from them. Also, as an Amazon Associate I earn from qualifying purchases. Check out our Privacy Policy and Disclosure. for more info.
With over 30 Christmas markets to explore during the festive season, Hamburg is hands down one of the most amazing Christmas market destinations in Northern Germany.
From its iconic main Christmas market at Rathausplatz to the notorious Christmas market festivities in Saint Pauli, there's truly something for everyone, even dogs, who have their own dedicated market (just like in Berlin)!
If you're currently planning your own trip, or simply curious about what the Hamburg Christmas Market scene is like, then we're here to help.
Read on for an overview of Hamburg Christmas Market, with official dates, hotel recommendations, and locations.
NOTE: While we've been to two of Hamburg's Christmas markets, we have yet to visit most of the ones available in the city, so have relied on information taken from official sources for your reference! To help us improve this guide, let us know in the comments if you have any insider tips to add, and we hope to visit soon to give you a first-hand scoop of what to expect.
Christmas Market Packing Essentials:
Hamburg Christmas Market Dates
While their dates usually overlap, the 30+ Christmas markets in Hamburg tend to vary in exact opening dates.
This is why we'd recommend checking out the markets' individual websites below, but here are some of the dates for the city's biggest Xmas markets that have been confirmed so far:
Hamburger Weihnachtsmarkt: Nov 27 – Dec 23
Weihnachtlicher Gänsemarkt: Nov 23 – Dec 23
Fleetweihnachtsmarkt: Nov 27 – Dec 23
Weihnachtsmarkt Osterstraße: Nov 23 – Dec 30
Hamburg Christmas Market 2023 Hotels
Looking for a place to stay nearby while you visit Christmas markets? Here are some recommendations:
Looking for more Germany travel inspiration?
Check out these guides on the best places to visit in…
The Top Hamburg Christmas Markets You Must Visit
So where can you find Christmas markets in Hamburg?
While the options are numerous (and you'll no doubt stumble upon several as you explore the city), here are some of the most famous Christmas markets in Hamburg to help you get some ideas for your trip.
Hamburg City Hall Christmas Market (Hamburger Weihnachtsmarkt am Rathausplatz)
Taking place in front of the iconic Hamburg City Hall (Rathaus) at Rathausplatz, this is by far the most famous of Hamburg's Christmas markets.
Here, you'll find dozens of stalls offering all kinds of handicrafts and typical Christmas market food and drink, all set in front of one of Hamburg's most gorgeous backdrops.
Near the Rathausplatz Christmas Market, you'll also find an array of Christmas market stalls selling all the typical goodies, scattered around Mönckebergbrunnen and Gerhard-Hauptmann-Platz.
This would be a great place to peruse gifts or grab a quick bite, especially if you're doing some shopping in the area.
There are usually stalls along Spitalerstrasse as well.
Saint Petri Church Christmas Market
In front of Hamburg's oldest standing church, you'll find another cozy and atmospheric Hamburg Christmas market, with several stalls selling local and international food specialties, along with 200+ fir trees scattered around to create the vibe of an enchanted forest.
Located at Spielbudenplatz, you'll find one of the most unique Christmas markets in Hamburg, and perhaps even Germany – the Saint Pauli Christmas Market, which stays true to its location in Hamburg's notorious Red Light District.
Where else will you find a Christmas market that has a "strip forest" (complete with sensual performances), and spicy Christmas gifts?
For context, the first time we visited this market years ago, it was referred to as the "Sex-mas market"… and while that name seems to have fallen out of favor, it's nonetheless one of the most exciting Christmas markets to visit in Hamburg, especially because its hours extend far later than most, making it a great place for some festive partying.
Jungfernstieg Christmas Market (AKA Weißerzauber auf dem Jungfernstieg, or White Magic at the Jungfernstieg)
Along Jungfernstieg boulevard at the Binnenalster, you'll find yet another beautiful Hamburg Christmas market – the Jungfernstieg Christmas Market, known for its elegant white theme and star-topped tents.
Whether you're looking for gifts to bring home to loved ones, or just a snack while you enjoy the atmosphere, this Christmas market has a little bit of everything to offer visitors.
Fleet Weihnachtsmarkt (Fleet Christmas Market)
Located on the idyllic little island of Fleetinsel, the Fleet Weihnachtsmarkt is an atmospheric gem thanks to its white star-topped tents, and unique features like two vintage sailboats and a nostalgic carousel.
Of course, this is also a great spot to browse for some gifts and indulge in the usual treats like Glühwein and candied nuts.
HafenCity Christmas Market
While less "market-y" than the other Hamburg Christmas Markets on this list, a stop at the HafenCity festive celebrations at Überseequartier are a must thanks to their large central ice rink, which offers a fun activity to try besides simply stuffing oneself with Glühwein and potatoes.
If however you are looking for your typical Christmas market treats here, there are stalls available for that too!
Bergedorf Christmas Market
Set at Bergedorf Castle, this enchanting little Christmas market is a lot more wholesome than the one mentioned above, with plenty of kids activities and stalls selling handicrafts and food.
Blankenese Christmas Market
In front of the Blankenese S-Bahn Station, you'll find another Hamburg Christmas Market worth checking out if you're in the area. The star of this market is the enchanting river view, which is all the more enjoyable with a cup of glühwein in hand.
Winter Pride Christmas Market
Along Lange Reihe in Hamburg's St Georg neighborhood, you'll find a small yet super fun Christmas market known as "Winter Pride" which bills itself as the ultimate Christmas market in Hamburg for those belonging to the LGBTQ+ community, and of course, allies are welcome too.
On weekends, this market becomes a bit of a party zone, with fun DJs and performances to enjoy while getting silly on Glühwein.
Gänsemarkt Christmas Market
Another nice spot in Hamburg to stop for some refreshments and shopping is the city's famous Gänsemarkt, where plenty of Glühwein (and food) stalls await.
This is a busy market that's often a go-to for locals to meet with friends, so beware that it might get pretty congested in the evening!
Ottensen Christmas Market
Behind Hamburg's Altona station, you'll find a cozy set of 40+ red chalets along the Ottenser Hauptstraße, offering all sorts of Christmassy delights in a mini festive village-of-sorts.
NOTE: There's also the Große Bergstraße Christmas market on the other side of the station.
Scandinavian Christmas Markets
Last but certainly not least, along Ditmar-Koel-Strasse in Hamburg-Neustadt, you'll find some beautiful Christmas market stalls with Scandinavian flair, thanks to the Scandinavian Seamen's Churches in Hamburg.
Whether you're keen to sample some elk and glögg, or hoping to buy some beautiful Scandi-gifts like wool sweaters and wooden toys, this is a great Hamburg Christmas market to put on your list.
More Photos of Christmas in Hamburg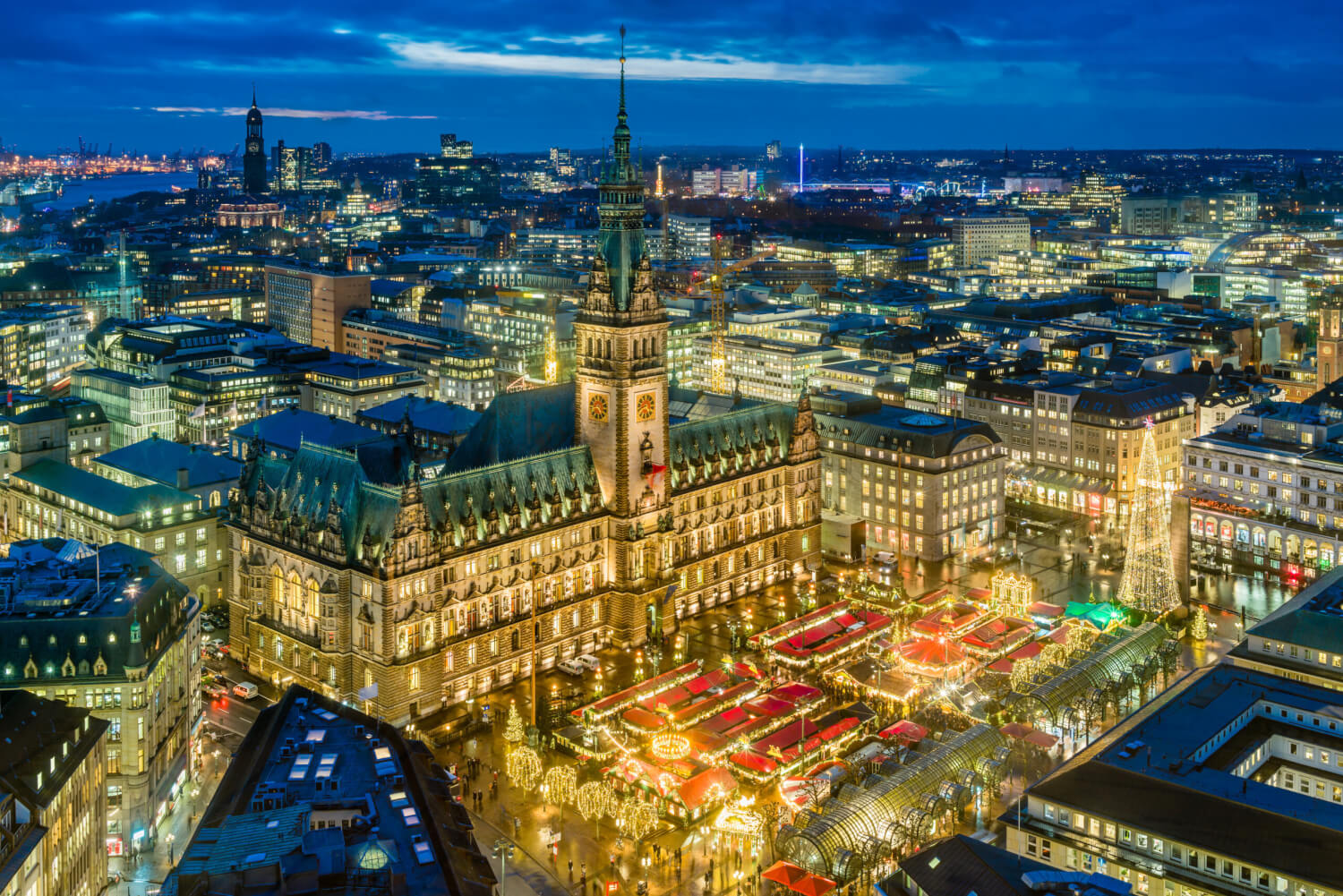 Help Us Improve This Hamburg Christmas Market Guide!
We're constantly striving to make articles on this site more informative for our readers, so let us know in the comments if you've been to Hamburg Christmas Market and if there are any tips or must-knows you'd like to share.