*FYI - this post may contain affiliate links, which means we earn a commission at no extra cost to you if you purchase from them. Also, as an Amazon Associate I earn from qualifying purchases. Check out our Privacy Policy and Disclosure. for more info.
Strasbourg's Christmas Market scene is world-famous. They don't call it the Capital of Christmas for nothing, after all!
And after visiting for ourselves back in 2019, we can confirm that Strasbourg offers one of the best Christmas market experiences you can find in Europe.
From jawdropping settings like the Strasbourg Cathedral to unique market offerings and incredible festive decor, Strasbourg's Christmas market scene is definitely one to put on your bucket list.
Looking to learn more about Strasbourg's Christmas markets, or perhaps need some guidance on planning your own trip there?
In this post, we'll be covering…
Practical Info for Strasbourg's Christmas Markets
A Brief History of Strasbourg's Christmas Markets
Why Visit Strasbourg's Christmas Markets?
Christmas Markets in Strasbourg to Visit
Unique Souvenirs from Strasbourg's Christmas Markets
We hope you find it helpful and interesting!
Practical Info for Strasbourg's Christmas Market
Here are some quick must-knows for Strasbourg's Christmas Markets this year:
Dates: November 24 – December 24, 2023
Official website: Click here
In need of a place to stay? Here are some quick hotel recommendations: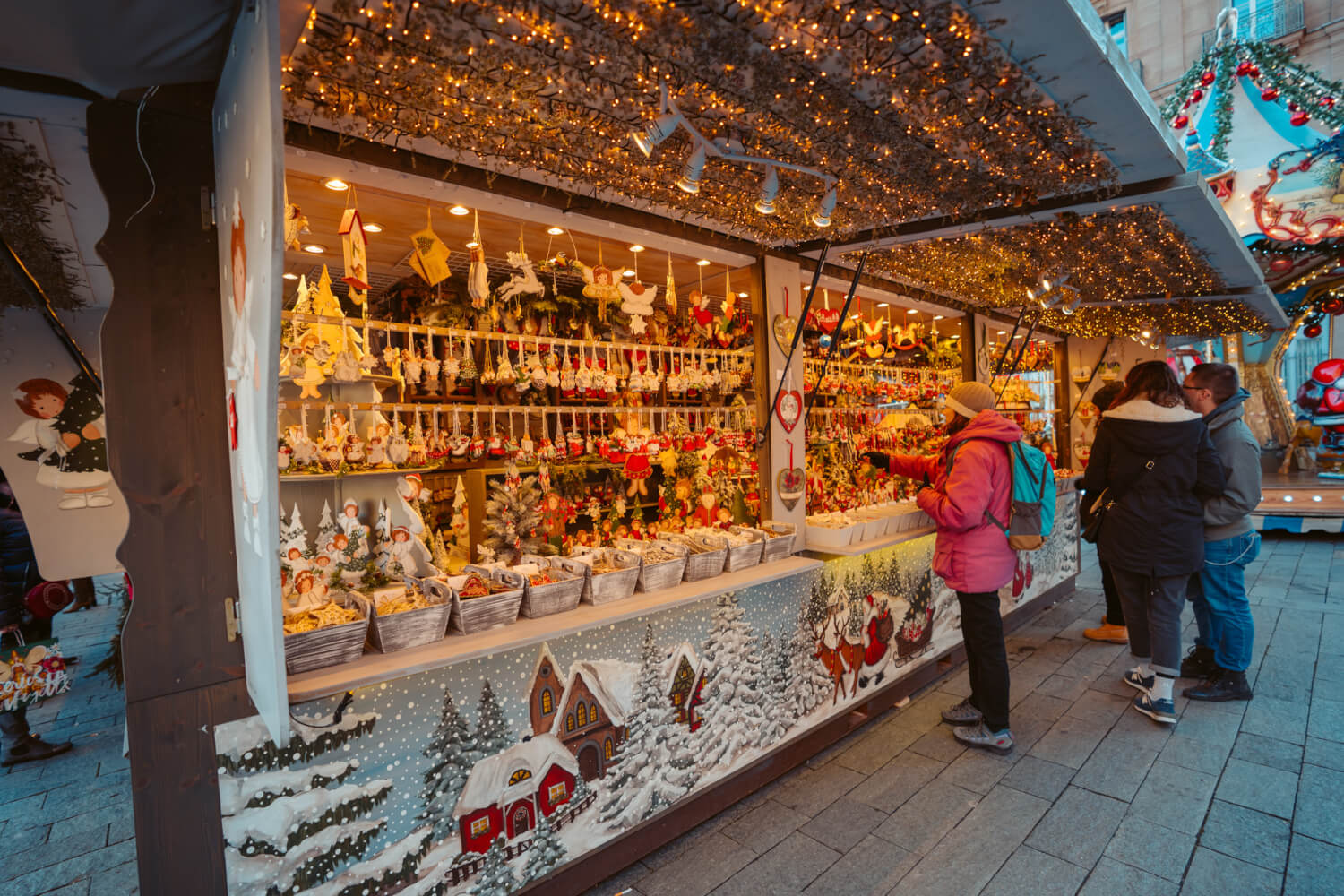 A Brief History of Strasbourg's Christmas Markets
Strasbourg's reputation as "capital of Christmas" is well-deserved.
After all, the Christmas markets here were in the first to take place in France, with a lengthy history dating back to the late 12th century.
According to official records, Strasbourg used to hold a Klausenmärik (Saint Nicolas market) every year on December 6 until Protestantism came to the Alsace.
After that point, Strasbourg would instead have the Christkindelsmärik, which dates back to 1570.
And while the Christkindelsmärik was originally held only for three days prior to Christmas Eve, over the years it began to expand and take place earlier.
By the second half of the 19th century, the markets would go on 36 days, 12x more than the original markets hundreds of years ago!
And, as you might expect, just as opening dates began to lengthen, so did the variety of locations for Christmas markets in the city.
Today, you'll find various Christmas markets of different themes all across Strasbourg, a far cry from those first humble markets all those centuries ago!
Why Visit Strasbourg's Christmas Markets?
Wondering whether or not a visit to Strasbourg at Christmas time is worth it? Here are some reasons to add it to your list:
There's a fun variety of different markets
Strasbourg itself has a wide variety of great Christmas markets to enjoy, from the traditional and historic to the quirkier and more alternative. This means you'll have plenty of great markets to visit, all within close walking distance of each other.
Plus, when in Strasbourg, you're in close proximity to many other excellent Alsace Christmas markets. The Christmas markets in Colmar for example are easily doable as a day trip from Strasbourg.
Strasbourg's Christmas decor is unreal
While the Christmas markets of Strasbourg are a definite highlight, praise must also be awarded to the incredible festive decor seen all over the city, from teddy bear-topped facades to specialty displays at department stores.
Strasbourg is an awesome city
There are plenty of great sights to enjoy in Strasbourg even outside of the festive season, from its epic cathedral (one of the most beautiful in Europe!) to its fairytale Petite France district.
So, rest assured – there are plenty of great reasons to visit Strasbourg besides only Christmas markets, meaning you'll have plenty to do during your trip.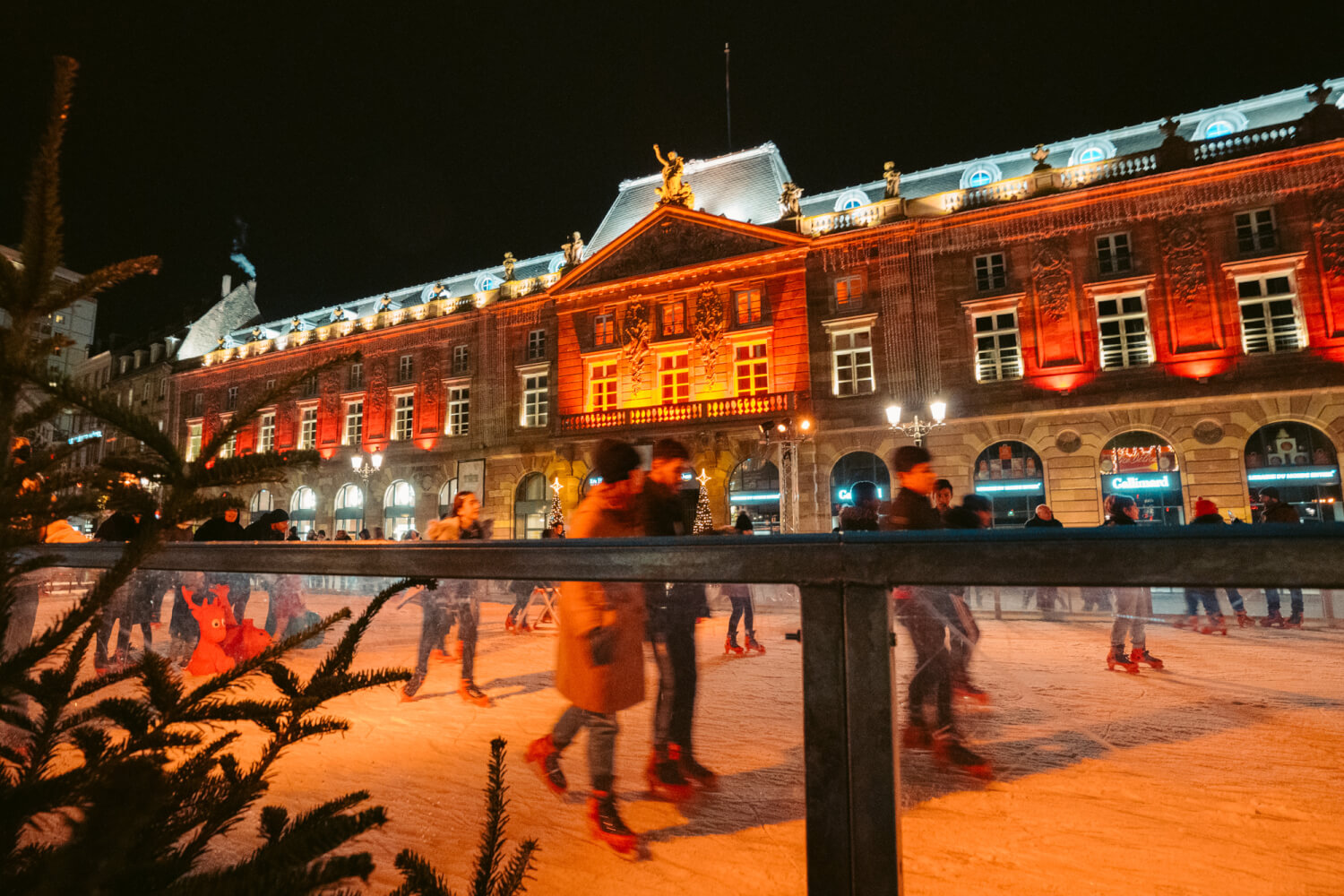 Christmas Markets in Strasbourg to Visit
Wondering where you can find Christmas markets in Strasbourg? Here are some highlights based on our visit.
The Christkindelsmärik at Place Broglie
The oldest and most historic Christmas market in Strasbourg can be found at Place Broglie.
The food options are amazing at this market, with everything on offer from fresh pretzels and spaetzle to knack sausage and crepes.
And while there are tons of shopping stalls too, we would say the stalls here had a lot more mass-produced gifts than we saw at other Strasbourg Christmas markets, which is why we'd recommend making food your main priority here.
NOTE: Thanks to its atmospheric location and international fame, this Christmas market is among the liveliest in the city, which means it can get quite crowded, so come early!
The Strasbourg Christmas Market at Place de la Cathédrale
One of the most famous landmarks in Strasbourg is its towering Cathédrale Notre Dame de Strasbourg, and so it should come as no surprise that this is where you'll find one of the most popular Christmas markets in the city.
And by popular, we mean crowded!
While the backdrop here is no doubt magical, this is where you'll find the bulk of visitors coming to see Strasbourg's Christmas markets.
And so, this market (for us) was mainly one for eating and drinking. While you'll find some stalls selling gifts here, we thought that other Christmas markets in Strasbourg had better shopping opportunities.
The OFF Christmas Market at Place Grimmeisen
With so many Christmas markets to offer, it's no surprise that Strasbourg has a few alternative offerings as well, one of which is the OFF Christmas Market at Place Grimmeisen.
Here, you'll find a dazzling LED tree, vendors selling gifts in repurposed shipping containers, transparent igloos and keg-turned-stools to perch on.
Shopping-wise, the selection is small, but the offerings are unique, and you'll even find a few charitable initiatives like cup collection boxes where you can donate your cup deposits to a local charity.
The Small Producers of Alsace Christmas Market at Place des Meuniers
The Alsace region is known for its tasty local products, from local wines and craft beer to truffles and of course, the city's award-winning Bredele cookies.
The Small Producers of Alsace Christmas Market can be found at Place des Meuniers, and offers a wonderful selection of all these local goodies, with plenty of samples to draw you (and your wallet) in!
The atmosphere of this market is also really lovely, with colourful stars hanging from the trees above.
The Alsatian Delicacies Market at Place du Marché-des-Poissons and the Patio of Palais Rohan
If you're a fan of local fare and products, then the Alsatian Delicacies Market at the Marché-des-Poissons is a must-visit.
This idyllic market can be found along the water, with chalets selling local wines, craft beers and other lovely gifts to bring home.
PRO TIP: It's especially wonderful here at sunset!
The International Christmas Market at Place Gutenberg
One unique Christmas market you'll find in Strasbourg that changes every year is the one at Place Gutenberg.
Here, a new international guest country is invited every year, with previous guests including Finland, Iceland, and Lebanon.
Here, you'll find tasty food from the host country, along with unique gifts from that culture as well. With its location close to many of Strasbourg's other main Christmas markets, this one is definitely a must-visit.
The Carré d'Or Christmas Market at Place du Temple-Neuf
At Place du Temple Neuf (right at the protestant church of Temple Neuf), you'll find the Carré d'Or Christmas Market, a delightfully cozy market with a handful of stalls selling unique gifts like foie gras and of course, plenty of vin chaud.
The Small Christmas Market at Place Saint Thomas
Lastly, for a small but peaceful Christmas market away from the crowds in Strasbourg, be sure to visit Place Saint Thomas.
This little market had a lot of fun gifts to offer, including these unique bike bells:
Unique Souvenirs to Buy From Strasbourg's Christmas Markets
Wondering what to buy at Strasbourg's Christmas Markets? Here are some ideas for truly unique gifts to bring home.
Alsatian wine glasses
Alsace is a region known for wine, and after a few tastings yourself, you'll start to notice the unique stubby glasses they come in, which are adorable, wide, and complete with green glass stems.
The unique design of these glasses is said to a) bring out the wine's floral and b) enhance the wine's pale colours.
Make sure to grab yourself a few of these glasses to remember your time in the region – they'll surely have use for years to come!
Bredele
Bredele are a popular local treat for the holidays.
Long story short, they're little biscuits/cakes usually sold in beautiful assorted packages, making them the perfect delicious gift!
You'll find them at Christmas markets all over Strasbourg, but this one stall at the Small Producers of Alsace Christmas Market at Place des Meuniers seemed especially popular:
Local food products
Lastly, the Alsace region has a variety of tasty specialties including foie gras, wine, and cheese.
Make sure to stock up on a few of these foodie products to bring home for the ultimate delicious souvenir!
More Photos of Strasbourg's Christmas Markets
Can't get enough of Strasbourg Christmas market goodness? Here are some more photos we captured during our visit:
Alsace Christmas Market Road Trip Video
Curious to see what it's like to do a road trip in Alsace exploring Christmas markets? Check out this video:
---
We hope you enjoyed this Strasbourg Christmas Market Guide!
Let us know in the comments if you have any more questions about your trip – we're always happy to help.
---
Must-Knows Before Visiting European Christmas Markets
Looking for additional tips before your Christmas market trip? Be sure to watch this video for some important must-knows!

---