*FYI - this post may contain affiliate links, which means we earn a commission at no extra cost to you if you purchase from them. Also, as an Amazon Associate I earn from qualifying purchases. Check out our Privacy Policy and Disclosure. for more info.
For lovers of holiday cheer, there are few bucket list items more tempting than a visit to Europe's Christmas Markets… famed for their cozy wooden chalets, stunningly historic backdrops, and extravagant decor at every turn.
And having created an entire site dedicated to their glory, we can confirm that Europe's Christmas markets are indeed a magical wonderland of gluttonous treats, beautiful handicrafts and enchanting festive vibes.
… but where can you find the best Christmas markets in Europe? Where do you even start with narrowing down the search?
Well, we're happy to report you're in the right place!
In no particular order, here are some of the best Christmas market destinations in Europe that you must add to your festive bucket list, from Alsace to Zagreb!
Most of the top Christmas markets in Europe can be found in Germany and those in Cologne are some of the best of the best!
One of the reasons Cologne's Christmas markets are so popular is due to their picturesque location, particularly the one that is held underneath the famous Cologne Cathedral. This market offers some of the best photo opportunities, but there are a number of excellent markets in Cologne to explore, all of which are exquisitely decorated.
The Angels' Christmas Market (Markt der Engel) is especially beautiful, with paper stars hanging from the trees and Angels walking around on stilts. Cologne even has a dedicated gay Christmas market (called Heavenue), a nautical-themed market next to the river and a House Elves' Winter Fairytale Christmas Market.
For more information, visit our full Cologne Christmas Markets guide
The German city of Dresden is another of the most famous Europe Christmas markets, with more than seven markets held throughout the city between November and December.
The Striezelmarkt takes place in the city's main square and is one of the oldest Christmas markets in Germany, first opened in 1434. Along with many beautiful stalls, the Striezelmarkt is also famous for containing both the world's largest functional Christmas arch and the world's tallest Christmas pyramid!
Dresden also hosts an amazing medieval Christmas market which takes you back in time to shop for traditional handicrafts from vendors in medieval-themed garb.
Other enchanting Christmas markets in Dresden include a romantic market and the Augustusmarkt – which focuses on international gifts from around the world.
For more information, visit our full Dresden Christmas Markets guide
Colmar is already a fairy-tale-like destination in France and it just gets even more magical during the festive period.
The city's gorgeous half-timbered houses, cobblestone streets and charming canals are decorated to the MAX during Christmas, with white Christmas trees throughout the town and even festive scenes arranged along its canals. You'll be filled with festive cheer before you even get to the markets!
Colmar's Christmas markets are definitely worth the visit though, with six different markets focusing on regional and gourmet items to buy as gifts or eat on the spot. Luckily all these markets are located around the center of town, so you can easily visit them all without needing to walk too far.
NOTE: Colmar is also a wonderful base for further Christmas market explorations, with many of the best Christmas markets in Alsace within a 30-minute drive, like Eguisheim, Turckheim, Kaysersberg, Riquewihr or Ribeauvillé.
For more information, visit our full Colmar Christmas Markets guide
Known the world over as Europe's 'Capital of Christmas', Strasbourg's spot on this list of top European Christmas markets should come as no surprise.
The first Christmas markets ever held in France (back in the 12th century) were in Strasbourg, so you'll be partaking in a grand tradition when you visit these days. Like Colmar, the decorations throughout Strasbourg are incredible during Christmas and there are many festive markets to enjoy.
From a magical market held in the shadow of Strasbourg Cathedral to the quirky OFF Christmas Market with very unique gift ideas, there is more than enough to inspire you even when shopping for the most difficult gift recipient.
Strasbourg's markets are also very atmospheric, with delicious food and drinks to enjoy, along with the stunning decor.
PS: While in Strasbourg, consider heading to nearby Obernai, which is one of our favorite (small) Christmas market destinations in France.
For more information, visit our full Strasbourg Christmas Markets guide
The spectacular lakeside location of the Montreux Christmas Market makes it a no-brainer to include as one of the top Christmas market destinations to visit in Europe.
This Swiss Christmas market's location on the banks of Lake Geneva means it would be beautiful anyway but the addition of light displays all along the water's edge makes it truly stunning during Christmas. The lake is also the location of the famous flying Santa of Montreux, who glides across the lake three times a day in his sleigh!
There's one main Christmas market in Montreux, spread out along the lakeside promenade with more than 170 stalls, attractions and rides to enjoy, along with a children's Elf Square that hosts fun events for the kids.
Make sure you also visit Santa in his mountain grotto via a special cogwheel train…
For more information, visit our full Montreux Christmas Market guide
Famous around the world for the Sound of Music, Mozart & its spectacular hilltop fortress, Salzburg is an Austrian city that hosts several Christmas markets throughout the festive season, all with breathtaking backdrops including the iconic Salzburg Cathedral and Hohensalzburg Fortress.
The most famous of Salzburg's Christmas markets is the Salzburger Christkindlmarkt, which takes place beneath the shadow of Salzburger Dom. It's one of the oldest in the world and is a great spot for some delicious festive treats, along with gift shopping.
Other Christmas markets worth stopping by in Salzburg include the Stern Advent and Winter Market which features a living nativity scene, a lovely market right by the train station and the St. Leonhard Advent Market which focuses on local Austrian merchandise.
Of course, there's also a stunning Christmas market in front of Hellbrunn Palace and another in the courtyard of Fortress Hohensalzburg – 500 meters above the city!
For more information, visit our full Salzburg Christmas Markets guide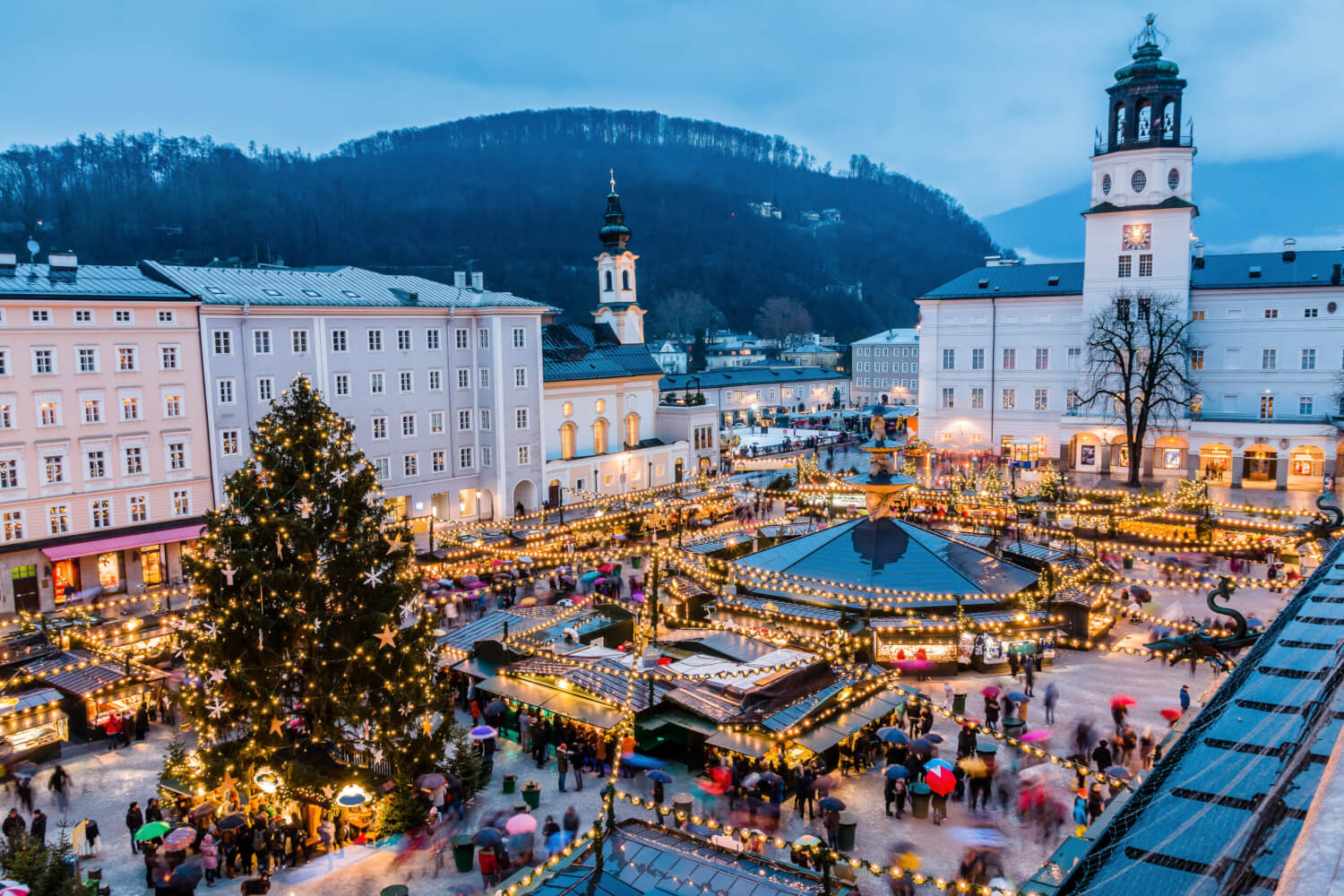 Munich is one of THE best Europe Christmas market destinations, with a huge selection of different markets, many themed and all amazing!
The main Christmas market in Munich has been running since the 14th century and there are many beautiful traditional stalls selling beautiful goods. Munich is also home to a variety of alternative Christmas markets, including a pink LGBT Christmas market, a medieval Christmas market and even a steampunk/circus-themed market.
If you're more into quiet beauty and tradition, head to the English Garden's Chinese Tower, which is transformed into a winter wonderland during the festive season.
There's even a Christmas market outside the Munich airport and the Wintertollwood Festival which offers an alternative take on Christmas market fun on the grounds of Oktoberfest.
For more information, visit our full Munich Christmas Markets guide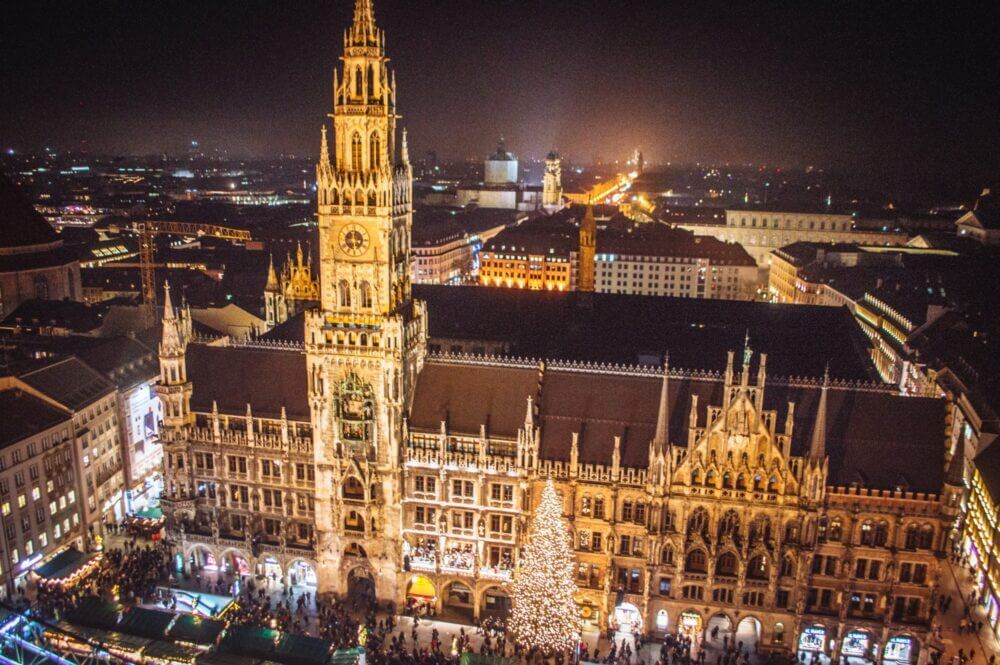 The capital city of Austria packs a massive Christmas punch, with around 14 different amazing Christmas markets popping up all over the city each year.
Not only does Vienna host a lot of different Christmas markets but some of them are also held in truly magical locations, from grandiose palace courtyards to the most glorious city squares, often dominated by stunning churches.
If you want to feel like a Christmas princess, head to the markets at Schönbrunn Palace, Hofburg Palace and Belvedere Palace, where elegant Baroque architecture adds to the ambience.
There are also Christmas markets focusing on art and food, as well as entertainment for children, while the Christmas Village on Maria Theresien Square features breathtaking light projections on the surrounding building facades.
For more information, visit our full Vienna Christmas Markets guide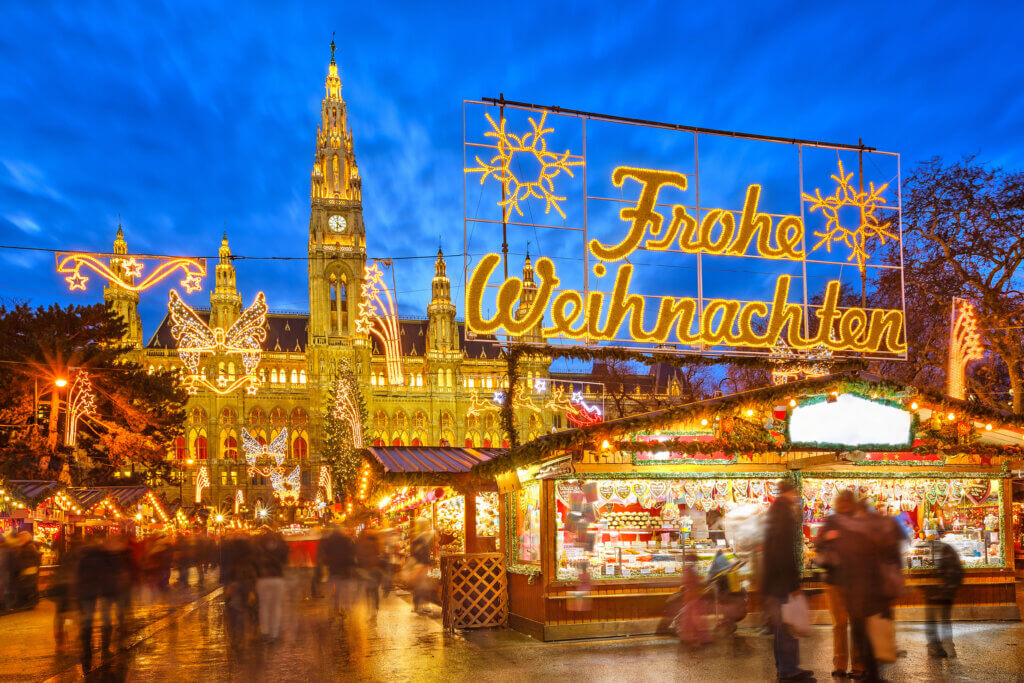 Another fabulous Christmas market destination in Austria is the city of Gratz, which manages to fit a large number of markets into a small area – perfect if you're on a time crunch but still want plenty of variety.
There are over a dozen Christmas markets held in Graz, although one that is especially beautiful is the Hauptplatz Christmas Market in front of the city hall, with stunning light projections and a big Christmas tree to go with the many stalls. There's also a lovely Children's Advent fair with fun rides and stalls selling sweet treats.
Many of Graz's Christmas markets focus on local handicrafts, along with a sustainable Christmas market and one where all the stalls are run by charities, so you can feel good about spending your money!
For more information, visit our full Graz Christmas Markets guide
Luxembourg City's unique tiered design is made even more awe-inspiring at Christmas time, with a number of markets and lots of gorgeous decorations during the Winterlights festival.
Throughout the Old Town part of the city, all the trees are strung with lights, giving Luxembourg City a real carnival feeling… especially with the many fun rides on offer, including a Ferris Wheel, a carousel, a Christmas tree ride, a bouncy trampoline for children, and even some carnival games.
There are also beautifully decorated Christmas trees, a traditional German wooden pyramid and lots of stalls selling delicious treats to eat while exploring, or gifts to take home.
Of course, it should be noted that Luxembourg City's Christmas markets are great for foodies as well, with an international array of foods to sample, from German sausages to Dutch stroopwafels, Hungarian chimney cakes and calzones from Italy.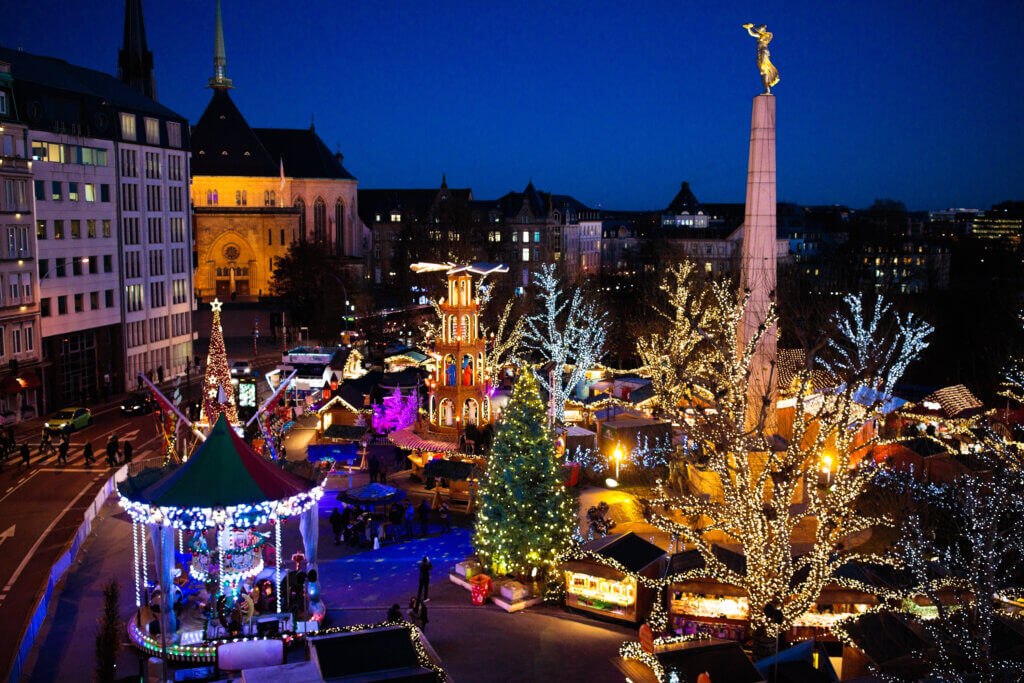 While the grandeur of the market stalls in Prague may pale in comparison to some other European Christmas markets, there's one thing that makes this city a firm contender for top Christmas market destination in Europe: it's Prague.
Boasting some of the prettiest backdrops on the continent, Prague's Christmas Market scene is dominated by the main market in Old Town Square, with a few smaller ones scattered around the city, selling a selection of food and souvenirs.
Shopping isn't really the main event at Prague's Christmas markets, but if your goal is to simply enjoy the festive atmosphere with a Svařák (hot wine) while enjoying the wintery charm of one of Europe's most gorgeous capitals, then a Christmas market trip to Prague is definitely one for the bucket list.
For more information, read our full Prague Christmas Market guide
If you like hidden gems then the capital city of Slovenia is ideal, with a subtle charm that's off the beaten path, but still delightfully magical during the festive season.
Ljubljana's city center is filled with market stalls come Christmas time, with beautiful gift ideas from woollen clothing, to arts, crafts, Slovenian honey and everything in between. There are also a number of enchanting events that take place at this time, to get you into the festive spirit!
One of the most stunning parts is the decorations at Ljubljana Castle, while previous years have seen ice sculptures, magical forests and free concerts around the city.
Ljubljana's markets also focus on sustainability, so there are workshops where you can learn to make your own eco-friendly Christmas decorations and more.
For more information, visit our full Ljubljana Christmas Markets guide
It might be surprising but no list of 'Christmas markets Europe' should leave off Zagreb in Croatia!
This gorgeous capital city goes all out during the Advent period, with many stunning decorations throughout the squares and promenades, along with a special winter park filled with fun for children. There are plenty of wooden huts for shopping at Zagreb's Christmas market but there are also so many other things to see and do while you're there.
From classical concerts to modern carols, Zagreb's streets will often be filled with music. Many of the local museums also get in on the action with special events and exhibitions, plus there are festive performances in local theaters. Then there's an ice park for skating, a live nativity scene and even a street that's transformed into Advent of the 1950s!
For more information, visit our full Zagreb Christmas Markets guide
Belgium contains some of the best Xmas markets in Europe, particularly those held in the capital of Brussels.
In fact, the Brussels Christmas Market, spread across multiple locations in the city with more than 200 chalets, is just one part of the Brussels Winter Wonders event, which has so much for visitors to enjoy! Of course, the shopping opportunities are wonderful, plus many of the market stalls sell delicious festive treats.
Other exciting aspects of Winter Wonders include a breathtaking sound and light show at Grand Place, a Ferris Wheel, merry-go-rounds, ice skating, live parades, concerts and a secret garden for when you need a break.
… and if you really need to relax, there's even a wood-fired sauna!
For more information, visit our full Brussels Christmas Markets guide
The historic English city of Bath is one of the most beautiful Xmas markets in Europe, with a stunning backdrop of the famous Bath Abbey and Roman Baths.
While the Bath Christmas market is only held for a short time, it's well worth making the trip from London to see the traditional wooden chalets throughout the pretty streets, with many of the gifts available coming from the local area.
This is a great market if you want to find a unique gift from the makers and artisans located around England's Southwest.
Along with the market stalls, Bath's Royal Victoria Park also hosts some magical activities such as glow-in-the-dark mini golf illuminated with Christmas lights and Bath on Ice, which provides ice skating or just a nice spot to watch from the Alpine Lodge.
For more information, visit our full Bath Christmas Markets guide
When you think Christmas markets, you probably first think of Germany and other cold areas, but Spain's capital of Madrid is also home to MANY Christmas markets that are worth visiting too!
Perhaps the most well-known of Madrid's multiple Christmas markets (seriously, there are so many!) is the main Plaza Mayor Christmas Market which takes place inside the red-brick interior of the Plaza Mayor (pictured below).
This square is also filled with red wooden chalets when the market opens, selling all sorts of Christmas decorations, ornaments, gifts, and Nativity Scene figures.
While the Plaza Mayor Christmas Market is the biggest in the city, there are plenty of other fantastic ones to visit, like La Navideña, the Christmas market in the Plaza de España which features a huge natural ice rink, market stalls and even circus shows!
For more information, visit our full Madrid Christmas Markets guide
Bucharest's Christmas Markets
The capital of Romania hosts a number of excellent Christmas markets and events which attract more than a million visitors each year!
One of the best things about Bucharest's Christmas markets is that they focus on traditional and local Romanian products, as well as delicious Romanian cuisine. The main market is held in Constitution Square, with stalls, a giant Christmas tree and Santa's House for the kids, but there are other markets to explore in other parts of Bucharest as well.
There are also Christmas markets at Bucharest University Square, Drumul Taberei Park and an Urban Christmas Market on National Arena. This one is particularly unique, with a sports theme including areas set aside for technology, indoor sports (such as ping pong), and gaming!
PS: You might want to read our roundup of the best Christmas markets in Romania for more inspiration!
Copenhagen has to be included as a contender if you are looking for the best place to spend Christmas in Europe.
There are multiple Christmas markets held in Copenhagen each year and while the most famous might be the one at Tivoli Gardens (an amusement park) there are also enchanting options in the main harbor, King's New Square and the alternative commune of Freetown Christiania.
Denmark was the birthplace of fairy tale author Hans Christian Andersen and the H.C. Andersen Christmas Market is perfect if you want to experience a fairytale Christmas market. There are delightful gift ideas here along with fun activities for children.
But beyond all the markets, there's a lot of Christmas magic to be found by simply strolling around the city's oh so scenic streets.
For more information, visit our full Copenhagen Christmas Markets guide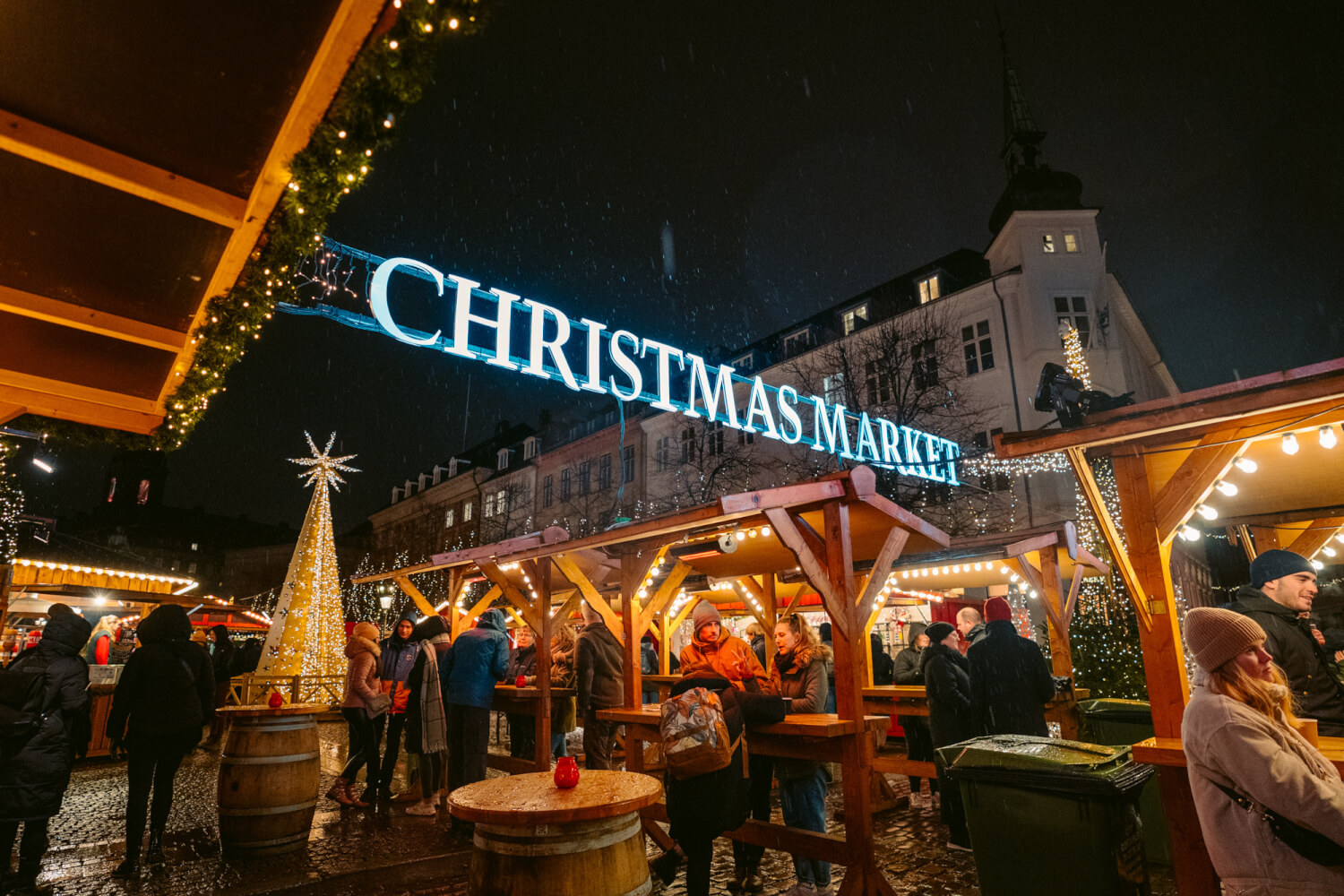 Tallinn is a gorgeous winter destination and home to one of the most underrated Christmas markets in Europe.
The Old Town part of Tallinn is one of the best-preserved medieval town centers in the world and it looks especially beautiful when a series of wooden stalls are erected surrounding the large Christmas tree in the middle. Fairytale string lights hang from above and there are carousels for the children… creating an utterly magical scene ripped straight from a holiday storybook.
Other festive activities include a Christmas jazz festival and Gingerbread Mania – an exhibition dedicated entirely to displays made out of gingerbread! The Estonian Open Air Museum is also well worth a visit to see Estonian Christmas traditions from different historical eras at the Christmas Village.
For more information, visit our full Tallinn Christmas Markets guide
Budapest is already a stunner of a city, so if you add in Christmas markets and decorations then of course it's going to be even more wonderful!
There are multiple Christmas markets held across the city, like the one on Vörösmarty Tér (the main square in the heart of Budapest), with lots of handmade local crafts and tasty Hungarian treats. There is plenty of seating available here too, so it's a perfect choice if you want to sample some Hungarian Christmas food like the traditional cinnamon chimney cakes.
Another popular Budapest Christmas market takes place in front of St. Stephen's Basilica, with stalls selling gifts and food as well as an ice skating rink and lots of beautiful lights. At night there's even a spectacular light show on the Basilica facade every 30 minutes!
For more information, visit our full Budapest Christmas Markets guide
The Polish city of Wroclaw receives a magical makeover at Christmas time, with more than 260 beautifully constructed chalets and storybook backdrops in the city center.
Wroclaw's Christmas market is easily one of the best in Poland and one of the most beautiful in all of Europe.
The stalls offer lots of lovely local Polish products as well as international gifts and delicacies to enjoy as you shop.
As well as the main market on Market Square, there's also a three-level fairytale house with an observation deck and a small tower with an illuminated clock in nearby Plac Solny.
Children will enjoy seeing classic fairy tales brought to life in the Fairytale Copse, plus there are classic amusement rides, a German Christmas pyramid and a stage where live performances take place in the lead-up to Christmas Eve.
For more information, visit our full Wroclaw Christmas Markets guide
Lastly, we couldn't write a roundup of top festive destinations in Europe without including London, a city that truly goes all out for Christmas, with a wide range of glitzy decorations, festive pop-ups, beautifully dressed storefronts, and Christmas markets aplenty, scattered all around town.
We've previously written a list of the best Christmas markets in London, but to be honest, London's festive appeal centers more around its exciting range of activities and beautiful lights, rather than its markets.
So, while we can't say London's Christmas markets are the best in Europe, we can say that it's a must-visit destination for Christmas regardless, with a stunning range of fun and festive things to do.
Did we miss any of your favorite Christmas markets in Europe?
Let us know in the comment so we can add more recommendations to our list!
---
Must-Knows Before Visiting European Christmas Markets
Looking for additional tips before your Christmas market trip? Be sure to watch this video for some important must-knows!

---