*FYI - this post may contain affiliate links, which means we earn a commission at no extra cost to you if you purchase from them. Also, as an Amazon Associate I earn from qualifying purchases. Check out our Privacy Policy and Disclosure. for more info.
Looking for the best Christmas markets in the Netherlands? You've come to the right place!
Sure, Germany usually gets more of the fame for their Christmas markets, but you might be surprised by the Christmas market scene in Holland.
There are actually quite a lot of very charming and unique markets, plus the country's small enough that you can easily visit a few in a short time.
So, from the wonders of Kerststad Valkenburg, a literal city of Christmas, to the magic of a Country & Christmas Fair held within gorgeous castle grounds, here are our top picks for Dutch Christmas markets:
Christmas Market Packing Essentials:
Kerststad Valkenburg
Valkenburg is called a Kerststad in Dutch (which means Christmas city) because the whole city is filled with Christmas events from November until early January!
It's home to some of the most unique Christmas markets, which are held inside caves/old marl quarries.
Not only can you browse delightful homemade goods and gifts, but the decorations (both Christmassy and historical) are fascinating.
Another cave is home to a huge nativity scene while the miniatures inside MegelRijk get cute festive additions (see below).
Read our full guide to the Valkenburg Christmas market for more info.
Castle de Haar is widely agreed to be the most beautiful castle in the Netherlands, while the Country & Christmas Fair held in its grounds each year is one of the most magical Christmas markets.
In the week leading up to the last weekend of November (the Tuesday 'til the Sunday) the castle grounds are filled with stalls, pop-up cafés, and carollers.
Head here to get your Christmas shopping done but make sure you stay until after dark to also see an incredible sound, light, water and fire show!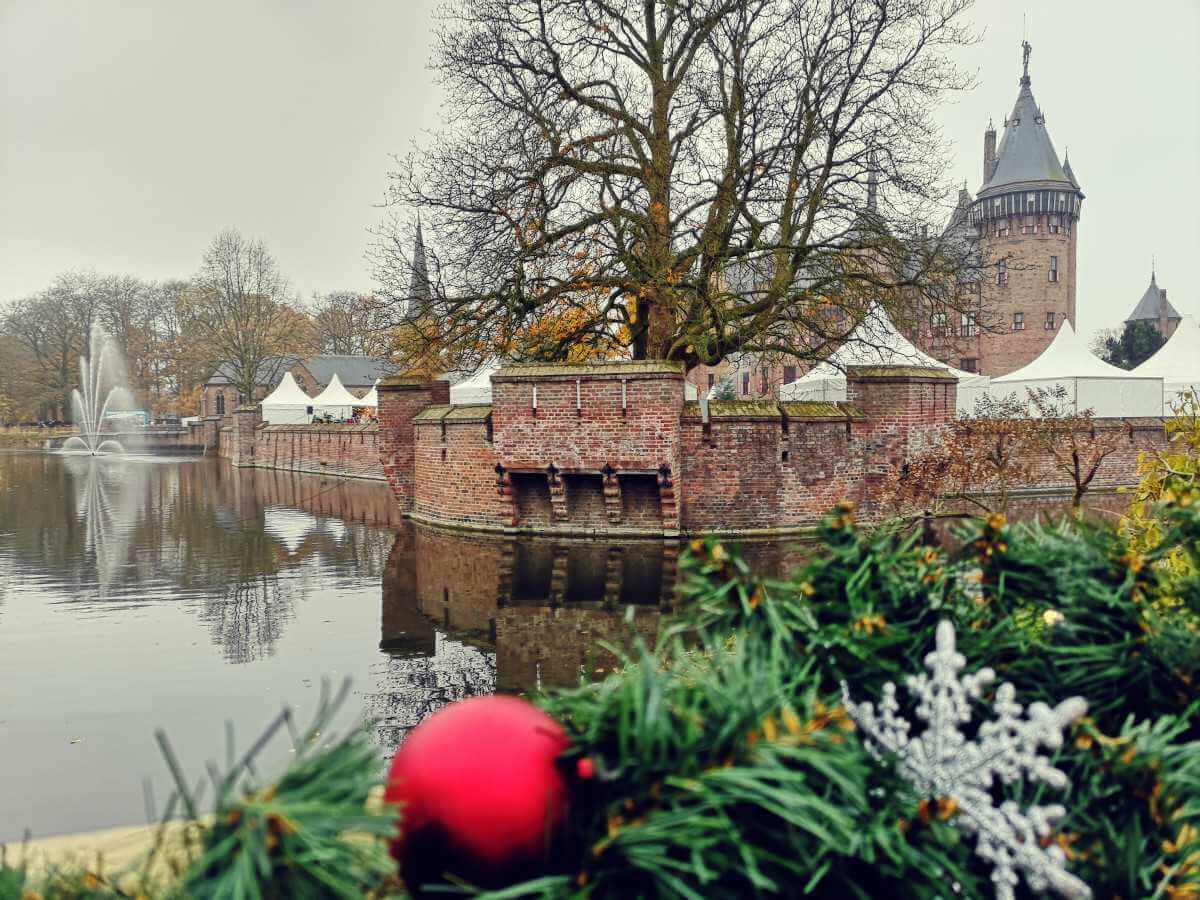 Deventer Dickens Festival
On the weekend before Christmas, the beautiful Dutch city of Deventer slips into a Victorian England costume during the Dickens Festival.
Hundreds of locals and actors wear costumes, some bringing to life famous characters from the works of Charles Dickens, like Ebeneezer Scrooge and Oliver Twist.
A walking route takes you through the beautiful historic quarter, where shops are open and carts sell traditional festive treats like mulled wine, roasted chestnuts, soups and baked potatoes.
At the end of the walking route a large Christmas market is set up on the Sunday, so you can look for gifts here and within all the shops.
Ice*Amsterdam
Amsterdam is home to quite a few different Christmas markets and events, but the most iconic is Ice*Amsterdam which takes place on the Museumplein.
Out the front of the Rijksmuseum a large ice-skating rink is set up from November onwards, then ringed around with chalets selling handmade gifts and hot treats.
While the Iamsterdam sign may no longer be located there, this is still one of the best spots in the city for some quintessential Christmassy photos, and shopping.
Even after Christmas is over, the ice-skating rink remains throughout January as well.
Archeon Midwinter Fair
If you prefer a Christmas Market which feels very old-fashioned and traditional, then you will love the Archeon Midwinter Fair.
Also called the midwinter renaissance fair, this event takes place at the Archeon Museum Park, an open-air history museum located about 30 minutes from the city of Leiden, on a weekend in December.
There's a covered market where artisans and merchants sell whimsical handmade goods such as jewelry, toys, art, wooden Christmas decorations, and more but it's the entertainment which is really famous.
There are workshops in dance, archery, and sword-fighting, as well as performances of magic, storytelling and other Yule fest ceremonies.
This is a really unique way to celebrate Christmas in the Netherlands!
Christmas Market Haarlem
A quick train ride from Amsterdam will bring you to the charming city of Haarlem, which hosts a large and traditional Christmas market.
This one looks very similar to what you probably have in mind when thinking "European Christmas Market" as it features wooden chalets in the main square of Haarlem, surrounded by gorgeous old buildings, a lit-up Church tower at night, a giant Christmas tree and atmospheric lights all round.
Lots of delicious gourmet gifts are available here, along with stalls where you can buy food and drinks to warm up as you browse.
There's also a focus on pretty, traditional Christmas decorations for sale and don't be surprised if some carollers or musicians pop up to bring the music.
Leiden Floating Christmas Market
Leiden is a charming medieval city only about half an hour from Amsterdam, and it's also home to (what many people call) the best floating Christmas Market in the world!
It usually runs from the second weekend in December up until Christmas Eve, with floating chalets set up on Leiden's main canal all day, every day.
You might not really notice that you are floating, as platforms are put across the Nieuwe Rijn and then the stalls are set on these, so don't worry about getting sea-sick!
Around 90 stalls are set up selling mainly hand-crafted items along with food and drink. There's even a floating ice-rink and a small stage with ongoing performances.
Royal Christmas Fair The Hague
Den Haag (The Hague in English) is the seat of the Dutch government and the official residence of the Dutch royal family, so it makes sense that the yearly Christmas market is called the Royal Christmas Fair.
Taking place in the heart of The Hague's most famous buildings – the Binnenhof, Noordeinde Palace, museums, churches and embassies – this is a really beautiful event that runs for about 2 weeks in December.
Cute stalls, vans, trucks and even a red double-decker bus make up the market, with twinkling lights strung between the trees above.
With around 100 stalls, you'll find gift ideas, wintery fashion and design decorations to browse while enjoying some glühwein or hot chocolate.
WinterWelVaart Groningen
What makes the WinterWelVaart in Groningen so special is that it takes place along the city's main river, with around 20 historic boats decorated with lights and open to the public to have a look around!
On the river quays a winter market is set up with stalls and there is also entertainment consisting of music, theater and art.
While it might be a little on the small side, we think WinterWelVaart more than makes up for that in how charming and unique it is!
Castle Christmas Fair
For another option of a Dutch Christmas Market in a castle, the Castle Christmas Fair is held on the grounds AND inside Castle Assumburg in Heemskerk.
This castle is actually also a hostel, that you can stay in but is normally only accessible for paying guests – but during the Castle Christmas Fair you can also explore.
When we visited it was snowing but luckily most of the stalls are inside tents or inside the castle itself.
There were also two larger tents where you could get food and drink, then sit down to be entertained by live music.
There's a four-day program featuring all sorts of different bands and groups, so if you like music you'll probably really enjoy this one. Gifts range from garden decór, to jewelry, to beer, clothing, and handmade Christmas decorations.
This market typically takes place in mid-November, from a Thursday until a Sunday. Check out list of Christmas market opening dates in the Netherlands for more info.
Norwegian Christmas Market in Rotterdam
For something really unique and cozy, if you head to Rotterdam there are a number of small Scandinavian Christmas markets organized by the local churches, particularly the Norwegian Christmas Market at the Sjømannskirken (Norwegian seaman's church).
There are two markets being held there this year, one from the 11th November until the 14th (Thursday to Sunday) and then again on the weekend of the 20th/21st.
This is a wonderful spot if you want to find uniquely Norwegian handicrafts, sweaters, jewelry and culinary specialties.
Princess Beatrix (former Queen of the Netherlands) has also been here, so you'll be walking in the footsteps on royalty!
The church itself is stunning, decorated with traditional carvings and paintings that will make you feel like you've gone back in time.
Did we miss any of your favorite Netherlands Christmas markets?
Let us know in the comments so we can update our list!